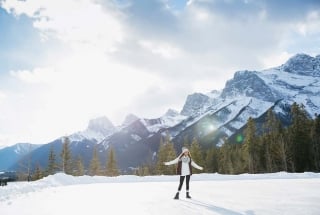 Itinerary: Four Days of Spring in Canmore and Kananaskis
Tourism Canmore Kananaskis - January 18, 2023
The spring season is time for fresh starts and new adventures, and there's no better place to invite transformation and get moving than in our unfiltered wilderness. Be with the mountains this springtime and start planning your exciting escape to Canmore and Kananaskis.
---
Day 1
Check into the Chateau Canmore
Whether you're traveling for business or for pleasure, with family or with friends, the Chateau Canmore brings the ultimate comfort for every occasion. You will feel right at home with unique rooms that cater to your specific needs. The in-room fireplaces set the perfect, cozy ambiance to make your stay in the mountains unforgettable.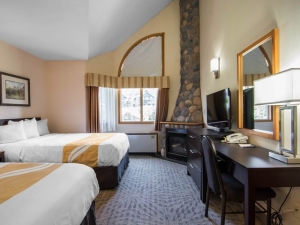 Explore the ice – before it melts! 
Don't miss your opportunity to explore the icy wonderlands of Canmore and Kananaskis before it melts away in the summer sun. Bow Valley Canyon Tours offers a surreal experience rappelling down frozen waterfalls on a once-in-a-lifetime ice canyon tour. If you've never tried rappelling before, no problem – your professional guide will teach you how to safely maneuver the frozen landscapes off the beaten path. 
Another way to explore our icy surroundings is on a hike with Canadian Rockies Experience. In this VIP experience, you'll be picked up in a luxury SUV before embarking on the two-hour journey through Grotto Canyon. The guides will treat you to snacks, coffee and tea, and dessert from a local bakery and guide you as you take in the spectacular views of the frozen scenery.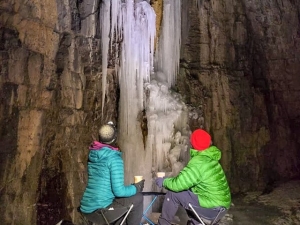 Feast at The Sensory
After a beautiful day of blue skies, it's nice to relax and indulge in an elevated dining experience. Dine in elegance at The Sensory and satisfy your inner foodie with meals made from locally foraged ingredients that put a twist on Canadian cuisine. Complete your meal with a masterfully crafted cocktail for a full sensory experience.  
Day 2
Explore the rugged underground
Canmore is known for its backyard of epic peaks perfect for any type of expedition, but did you know you can explore the inside of a mountain too? Let the passionate guides from Canmore Cave Tours share the incredible story of Rat's Nest Cave as you crawl, climb, rappel, and slide your way through the tunnels and chambers of Grotto Mountain.  
Indulge in the ultimate comfort foods
Give yourself a pat on the back for finding your way out of the cave! Now it's time to kick back with some classic comfort foods at Tavern 1883. A local favourite, Tavern is tucked away in the heart of downtown Canmore. Their creamy buffalo mac and cheese is a must-try! 
Day 3
Take the scenic route
Mystery Town Clue Solvers offers the perfect way to explore and learn some insider trivia about Canmore. Part scavenger hunt, part escape room, part amazing race, Mystery Town adventures can be played any day at any time. Combine your brainpower with your curiosity for local knowledge and choose from one of three fast-paced puzzles in downtown Canmore. 
Another way to enjoy the 80+ km of walking trails in Canmore is with a Nordic Walking tour with Active by Nature. Once you get the hang of the basic technique, Mandy will lead you through the most scenic pathways in the area and share her stories about the history of Canmore. Take this opportunity to deeply inhale the fresh mountain air as you follow winding trails surrounded by dense wilderness.  
Check out the local shopping scene
After a picturesque (and informative) stroll, continue your exploration into downtown Canmore to discover all the local shops we have to offer. From one-of-a-kind keepsakes from Project A and Alberta's Own Marketplace to mountain-inspired apparel from Liberty Clothing and Mountain Mercantile, you're bound to find the perfect souvenirs to take home.  
Grab a bite to eat
Once you're all shopped out, take a load off and refuel with a colourful meal from Communitea Café. This health-focused eatery keeps things fresh with a variety of salads, bowls, soups, and sandwiches, with options for omnivores, vegetarians, and vegans alike. Drop by on a Tuesday for their Pad Thai special! 
Day 4
Get moving
The shoulder season in Canmore and Kananaskis is perfect for multi-sport days. Kananaskis Outfitters is your ultimate hub for winter gear rentals so you can go from cross-country skiing to fat biking all in the same day – if you're up for it! Snowshoes and ice skates are also available for rent. Trails and facilities are accessible across Kananaskis Village so there's nothing standing in the way of you and the great outdoors. If it's your first time trying any of these activities, lessons and tours are available for a comfortable and memorable experience.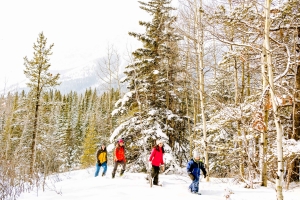 Gaze up at the stars and galaxies
Adventure doesn't stop when the sun goes down. Be dazzled by a sky full of more stars than you can possibly imagine on a Stargazing tour with guides from Kananaskis Outfitters. Join a skilled interpreter on a starlit snowshoe through a frosty forest and sip on a toasty hot chocolate in a mountain meadow as you stare up and take in the brilliant night sky.