Learn about Canmore Kananaskis weather conditions and forecast, how to dress for the elements, what to expect from wildlife, and more so you can prepare yourself for a safe and comfortable adventure.
The Elements
Layers are your friends. The same mountains that create the unpredictable local weather are just as beautifully photogenic with cigar smoke-clouds swirling around their summits as they are on clear bluebird days.
In summer, along with your favourite shorts, sandals and sundresses, pack jeans, long sleeves, closed shoes and a foul weather jacket.
For your winter visit, bring an insulated jacket, warm hat, mitts, long underwear and snow boots. Several medium-weight layers that are easily added or removed work much better than one big, heavy one.
On the hiking trails, always pack a warm layer, rain jacket, toque (we're in Canada, eh? That's a warm knit hat), gloves, and sun hat. A warm sunny day can morph into a cold rainy one in a few hours. Because we're at a higher altitude where the air is clean and thinner than at sea level, the sun's rays are strong. Sunglasses and sunscreen are essential all year round.
View Current Conditions
Getting to know our wild neighbours
Wildlife
Grizzly and black bear, deer, cougar, coyotes, elk, lynx, moose. Whether you've just spotted your first mule deer grazing in a local's backyard or caught sight of a golden eagle soaring up high, the excitement of being in raw, wild nature is a big part of the Canmore Kananaskis experience.
For the most part, the wild animals that make their home in the Rocky Mountains prefer to forage in the backcountry beyond the town's modern amenities and civilized comforts, from time to time you may bump into wildlife in our neighbourhoods and on local trails.
So what can you do to be safe and have fun? Become informed and be prepared. Stop by the Visitor Information Centre and pick up a copy of Bow Valley WildSmart's Living with Wildlife brochure.
Never forget
"A fed bear is a dead bear." Feeding a wild animal is not only dangerous for humans, but almost always leads to the death of the animal. It quickly learns to associate humans as a source of food. Watch or photograph from a respectful distance. NEVER approach or feed wildlife, and keep your dog on leash.
Creepy Crawlies
When it comes to insects, there's not much to worry about in Canmore and Kananaskis. Some summers will produce a few more mosquitoes than others, but our cool nights don't let them live long. At higher elevations you'll encounter a few horseflies, but they move slow enough to chase off before they bite you. Blackflies don't exist here. Few snakes live this far north, and the ones that do can't harm you.
From April through June, you'll need to watch for ticks who inhabit dry, sunny slopes, particularly where bighorn sheep live. Ticks can carry Lyme Disease and are picked up by people walking by bushes or tall grass. Protect yourself by wearing long pants tucked into socks or gaiters, and long sleeves. Check your body thoroughly after a day outside, and learn how to remove a tick properly.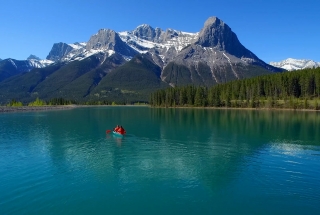 Lakes
Why are the lakes turquoise? Good question! Few places in the world are home to lakes as lovely as those in the Canadian Rockies. The stunning aqua colour of our glacier-fed lakes is created by the presence of fine particles of glacial sediment called rock flour suspended in the water. These minute, uniform particles reflect the blue and green wavelengths of light, giving the water its rich, jewel-toned colour.
For the most part, the water in high alpine lakes, particularly glacier-fed ones, is COLD! On a warm summer day the water temperature might rise to 9 degrees C (48 F). As such, the water of the rivers that flow downstream from our Rocky Mountain lakes is also cold. While this doesn't make for great swimming for humans, native fish love it!
This kind of cold water is not great for us. Humans won't live long in this water, so plan any water trips very carefully, wear a floatation jacket, and even a wet or dry suit. Better still, hire a local guide. While canoes and rafts are welcome on many local waterways, motor boats are restricted. Visit the Visitor Information Centre for details.
For a refreshing summer dip, Canmore's popular Quarry Lake swimming hole, a man-made lake on the south side of town, is open to all. And in winter, make sure the ice is at least 6 inches thick before stepping onto it. If you're unsure, stay off!
Be Prepared
The elements change very quickly in the mountains and this pristine wilderness is home to wildlife. We recommend reviewing the following if you plan to take walks or light to moderate hikes in the area:
Obey trail closures
Carry bear spray for all potential dangerous mammal encounters and an effective noise maker
Review current weather forecasts
Wear adequate and appropriate footwear
Each member of your party should have a comfortable backpack containing, at minimum: food, water, a breathable & waterproof garment, and extra layers of clothing
Advise someone of your route, destination and projected return time
If you are doing advanced hikes and/or scrambling, we urge you to research conditions before you depart