Who are we?
Tourism Canmore Kananaskis is the official not-for-profit Destination Management Organization for the region's tourism industry. Our goal is to increase overnight visitation, especially during the shoulder and winter seasons. We are promoting attractions, accommodations, and businesses in the area directly to consumers, while leveraging international travel trade and media channels.
Our organization is voluntarily funded by partner hotels as well as marketing buy-ins from businesses in the area. Tourism Canmore Kananaskis is working closely with Travel Alberta and Destination Canada to extend our marketing reach.
For more information on the organization, please contact us at [email protected]
We're Stronger Together
We have the same goal: to recruit visitors to come to Canmore Kananaskis and stay as long as possible, visit many shops and restaurants, and participate in a whole bunch of activities. In addition to generating buzz for our partners, we also market the destination to global markets through smart advertising that positions Canmore Kananaskis as an authentic, thrilling destination. This mission can only be accomplished by teaming up with those around us, from accommodations and dining to various levels of government, and everything in-between.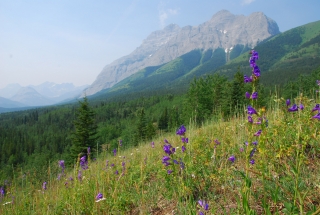 The Area
Canmore is the charming mountain town. Kananaskis is the more than 4,000 square kilometres (1544 square miles) of wildlands surrounding it, the stunning valley on the eastern slopes of the Canadian Rockies. Together, the Canmore Kananaskis area is picture-perfect and primed for any manner of adventure, in any season, any day of the year.
Think rolling foothills and rushing creeks cascading through forests of aspen, pine, and spruce. Knife-edge limestone ridges and jagged summits that cradle glaciers and sapphire-blue alpine lakes. A sprawling wilderness playground begging to be explored by hiking boots, running shoes, canoe, bike, horseback, whitewater raft, snowshoes, skis, or with a fishing rod. Bordering Banff National Park, the region is also an ideal jumping off point to explore some of its renowned sights.