The Path to Sustainable Tourism Development in Canmore & Kananaskis
Tourism Canmore Kananaskis is committed to becoming a leader in sustainable tourism development. By 2024, TCK will fully integrate the triple bottom line approach which considers economic, environmental, and social factors to develop a more holistic accounting of sustainability. For this approach to be successful, everyone needs to see themselves as key players – from businesses and organizations to residents and visitors.
Let's work together to encourage long-term prosperity, high quality of life, and environmental stewardship in Canmore & Kananaskis.
Environmental Stewardship at the Town of Canmore
Environmental stewardship is a primary strategic focus for the Town of Canmore. Over the past decade, the town has approved plans and initiated action to address environmental sustainability and climate change, including Regenerative Tourism Framework. The framework recognizes the opportunities and challenges that the tourism industry faces and addresses how regenerative tourism can lead directly to the triple bottom line of people, planet and profit.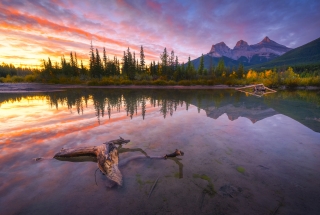 Sign the Pledge to the Peaks
Here in Canmore and Kananaskis, we're proud to coexist with the incredible wildlife and delicate ecosystems that surround us. We ask all visitors to take great care of the land, animals, and people that make this region so special. Sign the Pledge to the Peaks and help preserve these beautiful areas!
More information on sustainability