Marketing available for 2023!
Tourism Canmore Kananaskis is offering marketing in the 2023 Visitor's Guide and on ExploreCanmore.ca for tourism businesses located in Canmore and Kananaskis. Tourism businesses will need to be categorized as activity providers, retail businesses or Food & Beverage.
Hotels will continue to submit a 2% DMF fee to the organization and restaurants within member hotels will continue to be featured in Tourism Canmore Kananaskis Marketing.
Choose the Marketing Option that Best Suits Your Business
2% DMF Fee Option
Our dedicated Members submit a 2% Destination Marketing Fee (DMF) to Tourism Canmore Kananaskis. To acknowledge their contribution, these members will be featured prominently in all of Tourism Canmore Kananaskis marketing channels.
This option is available to all area hotels, activity, retail and food & beverage providers.
You agree to submit 2% of your gross sales to Tourism Canmore Kananaskis to market the destination and your business. This fee will be submitted through an independent trustee. For a sample of the contract, please click here.
With the fee, you will become a full member of Tourism Canmore Kananaskis with voting rights at the AGM as well as featured listings for both the website and the Visitors' Guide. You will also get Social Media mentions and will be a preferred vendor of Tourism Canmore Kananaskis.
Your business will be displayed in all categories that fit your offering on www.explorecanmore.ca.
Marketing Services Buy-in Option
This option is available for all Canmore and Kananaskis tourism businesses.
The marketing services buy-in option includes:
a basic listing in the Visitors' Guide
a basic listing on the explorecanmore.ca website
Your business will be displayed in 1 category that fits your offerings on www.explorecanmore.ca.
Upgrades for featured listings are available for an additional fee.
The marketing services buy-in option starts at $250.
The cost is dependent on the number of staff working for the business.
For more information on website listings and the Visitors' Guide, please contact us.
*Please note that this option is not available for area hotels or restaurants located within hotels.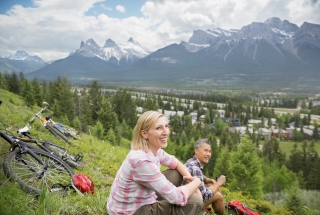 STRENGTHENING OUR ECONOMY, TOGETHER
When one of us prospers, we all prosper. It's no secret that tourism has become a vital economic driver in Canmore and Kananaskis. The industry supports over 7,000 jobs1, and attracts an average of 11,000 daily visitors2 who contribute over $500 million3 to our economy annually. As a partner, your investment in Tourism Canmore Kananaskis contributes to a higher marketing spend for our destination, building a stronger economy for everyone.
Join 145 businesses in Canmore and Kananaskis and take advantage of these powerful partnership benefits today.