Bike-Friendly Canmore
One of the best things about being in a small mountain town is that it's so easy to leave your car behind and get around on foot, by bus, or of course bike! To support and inspire a passionate and growing cycling community, Canmore has given extra care and attention to biking infrastructure and amenities.
Need more info about all aspects of Canmore's bike culture? Discover beautiful multi-use pathways, cyclist amenities, bicycle friendly businesses, thrilling adventures in our surrounding mountain peak, trail maps and guides, where to lock your bike while you relax on a patio, and local biking events.
Visit Bike Canmore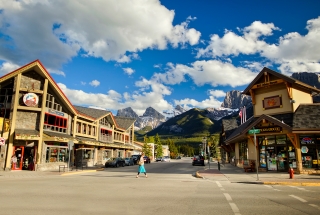 Local Transit
Canmore's local public transit service is your ticket to easy exploration. Hop on Route 5 from almost any hotel in Canmore and ride throughout the Town. Day trip to Banff? Route 3 will get you there and back. Roam will get you to some of the region's most-visited tourist destinations, from Johnston Canyon to the Hot Springs.