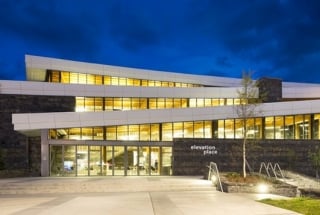 What Can I Do At Elevation Place?
Ben Krausert - December 21, 2015
Taking the marriage of athletic dominance and community spirit to new heights, Elevation Place transcends the traditional concepts of recreation…
---
WHAT CAN I DO AT ELEVATION PLACE? 
Nestled within an eco-friendly, award-winning building, Elevation Place boasts unparalleled athletic facilities and an inviting community space for all to enjoy!
Aquatics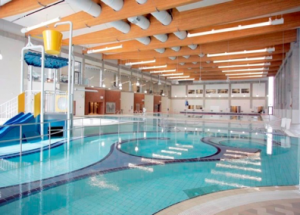 For those who are aquatically inclined, Elevation Place offers an ocean of facilities. With 8 lanes for training, 2 lanes for warm up, and multiple training tools for use, Elevation Place has those looking for a watery workout covered! For those looking to unwind, there is a waterslide, lazy river, steam room, and extra-large hot tub.  All these just steps away from a kids splash zone, perfect for the little ones!
Climbing
The climbing gym reaches for new heights! With towering walls sporting over 100 graded routes, and over 40 lines for top rope or lead climbing, you'll feel as though you were outside climbing the peaks. Additionally, those wishing to try their hand at bouldering have more than enough routes designed specifically for that discipline. The kids want to try it too? No worries – there are routes set up for all ages, experience levels, and reaches!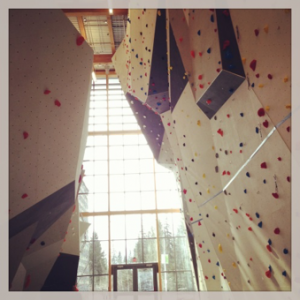 Gym
Overlooking the Aquatic Center, Elevation Place provides a welcoming weight room and cardio studio. Bikes, treadmills, elliptical machines, benches, racks, and more are offered at the most affordable drop-in gym in Canmore!
Community
Home to the Canmore Public Library and the Canmore Art Guild Gallery, Elevation Place offers space to read, meet and be inspired. Grab some refreshments from the onsite Good Earth Café, then visit the Art Gallery; find a good book then recline and get lost in the story while relaxing in the Library.
Are you looking to host a meeting or event? Elevation Place has numerous rooms for rent that can accommodate multiple settings, whether you're looking for a board room or dance studio. Need a lot of space? The atrium can also be rented out to host your event!
GET ELEVATED!
With countless classes, amazing membership deals, and incredibly accessible drop-in options, Elevation Place offers something for everyone! To find out about classes, memberships, and drop-in rates, explore their site http://elevationplace.ca
Written by: Ben Krausert, Travel Counselor; Musician; Student; Canmorite
Photo Credits: gibbsgage.com, elevationplace.ca, highlineonline.ca
Written by:Ben Krausert, Travel Counselor; Musician; Student; Canmorite
Photo Credits: gibbsgage.com, elevationplace.ca, highlineonline.ca
RELATED LISTINGS