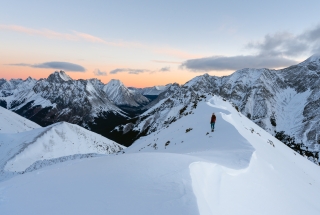 4 Winter Safety Tips while Exploring Canmore and Kananaskis
Tourism Canmore Kananaskis - January 15, 2021
The mountains are calling, you're ready to get out there, and we're excited to see you! Winter safety in Canmore and Kananaskis relies on the same guidelines of being prepared and aware. 
In this article with tips from our friends at Alberta Parks and Yamnuska Mountain Adventures, we'll dive into 4 tips to keep you safe while having fun in the snow.
Tip 1: Prep and Plan Your Outing
Mountain weather changes faster than a hungry bear's mood. Whether you're skating, skiing, snowshoeing, or enjoying another one of the numerous activities that make Canmore and Kananaskis a winter enthusiast's paradise, always venture out prepared with layers of clothing for all conditions. Don't forget to bring a few masks, hand sanitizer, tissues, and a personal garbage bag.
Prior to your visit, research your routes. Even if you're sticking close to town, having a plan B for sudden weather changes will make your adventure more enjoyable (and ensure that you don't have to head home early).
Stay up-to-date on current trail conditions and wildlife activity by visiting the Alberta Parks Advisory and Trail Report pages, and Avalanche Canada's Forecast website. Or, you can call our Visitor Information Centre at 1-403-678-5277 to speak with a destination expert directly.
Tip 2: Sharing is Caring (shelters, not your cold)
The outdoors may seem limitless, but there are only so many warming huts. We all want to enjoy the space! Be aware and respectful of others; this may mean limiting your stay in warming huts and shelters so new groups arriving can use them, too.
While taking the chill off inside a shelter, wear a mask when you're not eating or drinking, and sanitize your hands after touching surfaces like door knobs and faucets. You can also help limit the spread of illness by maintaining physical distancing in parking lots, at trailheads, and within shelters.
Note that warming huts are currently closed due to COVID restrictions. Before making them a part of your travels, confirm they're open by visiting the Alberta Parks website. As always, use sites at your own risk, and pack out what you pack in. Vehicle break-ins do occur in Kananaskis, so leave your laptop at home. Who needs it, anyway, when you've got mountains for miles?
Tip 3: Cold Water Safety is Survival
If skating or snowshoeing are on your agenda, use caution and common sense. The glacial waters of the Canadian Rockies are frigid even in the summertime, so you need to be extra cautious near water during the colder months. Even shallow, swiftly flowing water can be deceptively strong, and knock you off your feet quicker than a rutting elk (not fun).
The thickness of natural ice can vary due to many factors, including temperature, water current, and the time of year. If you're going out on ice, the thickness should be 15 cm for walking or skating alone, 20 cm for multiple people, and 25 cm for snowmobiles. Parks staff do not monitor ice thickness, so check conditions before you head out, and always tell someone where you're going. If you're not sure if the water is fully frozen, don't risk it, and reach out to our  Visitor Centre with any questions.
In the event you do wind up in the water, be familiar with the 1-10-1 Rule for Cold Water Immersion.
You have 1 minute to get your breathing under control. Your body will panic due to the shock of the cold, so you may experience hyperventilation. Try to remain calm; focus on controlling your breath and keeping your airway clear.
Within 10 minutes you will start to lose control of your extremities, leaving you unable to swim. Focus on self-rescue, and if that's not possible, attempt to breathe and maintain body heat while awaiting help. Hypothermia will set in within 1 hour, leading to unconsciousness. Medical attention is immediately necessary for treatment.
An accidental dip in cold water can ruin your day, to say the least. When in doubt, don't attempt to cross. Staying warm and dry will ensure a more enjoyable time in the crisp mountain air.
Tip 4: Recruit the Experts
Canmore and Kananaskis boast the best guides in the Canadian Rockies to experience the majesty of the mountains. With offerings ranging from beginner to Bear Grylls, there is no need to stay indoors when the temperature drops.
Looking to experience the wilderness with a low-impact activity? Walking tours, nordic walking, and guided snowshoe hikes led by Active By Nature can be enjoyed by all skill levels.
Canadian Rockies Experience offers luxury, tailored guided snowshoe tours, ice walks, hikes, and sightseeing. Enjoy a hot drink while you explore three national parks in one tour, and take in some of the most iconic landscapes the Canadian Rockies has to offer. 
If you're ready to kick your outdoor adventures into high gear, Yamnuska Mountain Adventures has got you covered. Touted as one of the world's best mountaineering schools, they offer beginner to expert level training in mountaineering, ice climbing, backcountry skiing, as well as avalanche training for those who want to gain the knowledge and skills to explore safely on their own.
Wonder what it's like to plan a traverse of the backcountry, straight from a guide's mouth? Take a look at this blog by one of Yamnuska's own! 

Stay Safe, Have Fun
The Canadian Rockies are a wild and unpredictable environment, but with the right resources, you can enjoy the mountains in all their snow-capped glory!
Whether you choose to follow the trail or adventure off the beaten path, Canmore and Kananaskis will keep you active and exploring all season.
Check out more Winter Activities