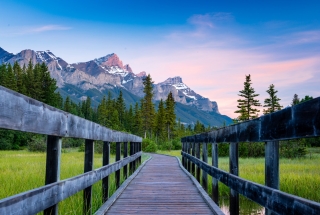 7 Great Spring Activities in Canmore and Kananaskis
Tourism Canmore Kananaskis - April 24, 2018
Spring weather in Canmore and Kananaskis will keep you on your toes, so we've made a list that covers all kinds of activities to help you make the most of your trip. Here are some ideas of things to do to make the most of while you wait for the summer sun to melt the snow. 
#1 Spring Skiing
Strap into your skis for a bluebird day of perfectly groomed powder at Nakiska Ski Resort. The family-friendly resort offers a great beginner's area and has terrain for every skill level to get out and enjoy the spring sunshine. The hill is open through the end of April – don't forget the sunscreen to limit your spring-riding goggle tan! 
#2 Helicopter Sightseeing Tour
Journey deep into the majestic Canadian Rockies on a sightseeing tour with Alpine Helicopters. This is your chance to see glaciers, mountain ranges, rivers, and lakes from high above in an experience that you won't soon forget. This breathtaking experience is not to be missed!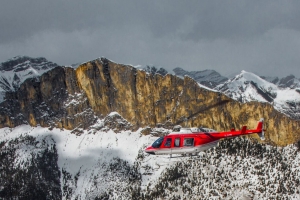 #3 Take a Hike
With fewer people on the trails and warmer weather starting to creep in, spring is the perfect time to try out some classic hikes in the area. Check out our list of spring hikes for inspiration and carve out some time for an escape to the mountain trails of Kananaskis Country. Keep an eye on the trail conditions and know how to dress for the weather as you prepare for your expedition.
#4 Explore an Underground Cave Network
Get ready for an exhilarating adventure with Canmore Cave Tours. Venture into Rats Nest Cave and explore water-sculpted passages rich with ancient pictographs, 7000-year-old bones, and beautiful formations that will leave you with a whole new appreciation for our treasured mountains. The cave stays a predictable 5 degrees Celsius no matter what the temperature is outside, making it a year-round, all-weather activity.
#5 Learn the Traditional History of Grotto Canyon
Discover the traditional history of Grotto Canyon on an Indigenous walking tour with Mahikan Trails. Grotto Mountain is one of Canmore's most popular walking and hiking areas and has a special relationship to the Indigenous people from the area. Take this unique opportunity to listen to fascinating stories and understand the cultural teachings that will open new perspectives on the landscapes that give rise to Grotto Canyon. 
#6 Find Your Perfect Memento
Canmore boasts a broad range of eclectic and unique shops. Grab a latte from Eclipse Coffee Roasters before taking a stroll down Main Street to discover the friendly charm of Canmore's shops. Find a piece of unique mountain artwork in Avens Gallery, get inspired by the alpine fashion at Liberty Clothing, or find a locally made memento at Project A.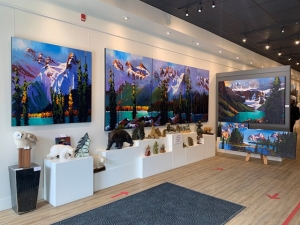 #7  Hop Aboard the Mountain City Brew Bus
Cap off your day in the Canadian Rockies with a cold one. Sip on new brews and classic go-to's with your crew as you sit back, relax, and get chauffeured to the many breweries and distilleries in the area with Canmore Brewery & Distillery's Mountain City Brew Bus. 
The tour includes local favourites like BLAKE Brew House, Canmore Brewing Company, Grizzly Paw Brewing Company, and  Wild Life Distillery. Choose your own adventure and get on or off the bus at any of the participating locations. Don't forget to take advantage of the discounts provided for participants.
BONUS ACTIVITY
Spring can bring some unpredictable temperatures and weather, but if conditions last long enough, ice climbing can be an invigorating way to enjoy the outdoors. Clip in with lessons from Yamnuska Mountain Adventures and feel the rush as you dangle off the sheer face of a frozen mountain waterfall. The outdoor guides can help you play in the icy mountains safely and confidently.