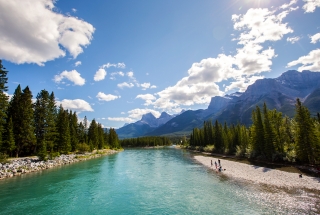 7 Great Spring Activities in Canmore and Kananaskis
Tourism Canmore Kananaskis - April 24, 2018
---
Spring weather in Canmore and Kananaskis will keep you on your toes, so we've made a list that covers all kinds of activities to help you make the most of your trip. Here are some ideas of things to do while you wait for the summer sun to melt the snow and open the rest of the trails!
#1 Grassi Lakes
The Grassi Lakes hike is a moderate 30-40 minute climb that leads to two emerald-green lakes in between Mount Lawrence Grassi and Mount Rundle. Take in the views along the way and don't miss the waterfall! At the second lake, you might even see rock climbers scaling the cliff edge and entering the caves that dot the side of the mountain.
View the Canmore Hiking Guide.
#2 Go Caving in Grotto Mountain
Caving is a fantastic activity that can be enjoyed year-round! The internal temperature of the caves remains constant even in winter! Canmore Cave Tours will take you for a natural history tour of the Rat's Nest Cave, under Grotto Mountain. Tour the 4km cave created by the meltwaters of ancient glaciers.
https://www.ingram.com/p/B9Zscn9j4Ms//?utm_source=ig_embedsta
#3 Experience Elevation Place
Discover Canmore's indoor playground, Elevation Place. The 77,000 sq ft. facility boasts a national-competition-class Walltopia climbing wall, aquatic centre (with waterslides, hot tubs, and pools), a fitness & cardio centre, art gallery, and a public library. With enormous glass windows facing Canmore's iconic Three Sisters and Rundle mountain ranges, you will feel like you're outside!
https://www.instagram.com/p/Buhjs6SAVkI/?utm_source=ig_embed
#4 Hike Ha Ling Peak
For the more adventurous souls, Ha Ling Peak offers a challenging hike. Ha Ling can usually be accessed during the spring months. An 800m climb up the backside of Ha Ling will bring you the summit featuring panoramic views of Canmore and the Bow Valley.
#5 Take a Helicopter Tour
Tour the Rockies from above in a helicopter tour. See glaciers, mountain ranges, rivers, and lakes that only a few have seen! Alpine Heli Tours offers incredible tours.
#6 Shop in Downtown Canmore
Canmore boasts a broad range of eclectic and unique shops. From unique mountain artwork to high fashion! Take a stroll down Main Street, grab a latte, and discover the friendly charm of Canmore's shops.
#7  Go on an Indigenous Canyon Walk
Join Mahikan Trails for a walk with a knowledgeable guide who will share the fascinating stories of Grotto Canyon from an Indigenous perspective.