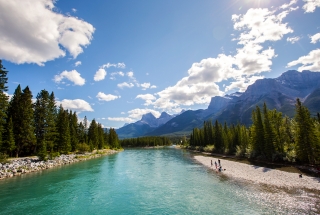 7 Great Spring Activities in Canmore Kananaskis
Adventure
Spring, Summer & Fall
---
Spring weather in Canmore Kananaskis is hard to predict – here's a great list of things to do for your trip while you wait for the summer sun to melt the snow and open the rest of the trails!
1. Grassi Lakes The Grassi Lakes hike is a moderate 30-40 minute climb that leads to two emerald-green lakes in between Mount Lawrence Grassi and Mount Rundle. Take in the views along the way and don't miss the waterfall! At the second lake, you might even see rock climbers scaling the cliff edge and entering the caves that dot the side of the mountain.
View the Canmore Hiking Guide.
2. Wildlife Drive Kananaskis Country is surrounded by towering mountains and breathtaking wilderness, as well as abundant wildlife including bear, moose, elk, deer, and mountain sheep. The wildlife drive route may be used as a day trip from Canmore or an alternate you to and from Calgary. The best time to spot wildlife is in the early evening or early morning. Drive carefully as wildlife are frequently on the road. NEVER leave your vehicle to approach wildlife.
3. Caving in Grotto Mountain Caving is a fantastic activity that can be enjoyed year-round! The internal temperature of the caves remains constant even in Winter! Canmore Cave Tours will take you for a natural history tour of the Rat's Nest Cave, under Grotto Mountain. Tour the 4km cave created by the meltwaters of ancient glaciers.
https://www.ingram.com/p/B9Zscn9j4Ms//?utm_source=ig_embedsta
4. Elevation Place Discover Canmore's indoor playground, Elevation Place. The 77,000 sq ft. facility boasts a national-competition-class Walltopia climbing wall, aquatic centre (with waterslides, hot tubs, and pools), a fitness & cardio centre, art gallery, and a public library. With enormous glass windows facing Canmore's iconic Three Sisters and Rundle mountain ranges, you will feel like you're outside!
https://www.instagram.com/p/Buhjs6SAVkI/?utm_source=ig_embed
5. Ha Ling Peak For the more adventurous souls, Ha Ling Peak offers a challenging hike. Ha Ling can usually be accessed during the spring months. An 800m climb up the backside of Ha Ling will bring you the summit featuring panoramic views of Canmore and the Bow Valley.
6. Helicopter Tours Tour the Rockies from above in a Helicopter tour. See glaciers, mountain ranges, rivers, and lakes that only a few have seen! Alpine Heli Tours offers incredible tours.
7. Shopping in Downtown Canmore Canmore boasts a broad range of eclectic and unique shops. From unique mountain artwork to high fashion! Take a stroll down Main Street, grab a latte, and discover the friendly charm of Canmore's shops.