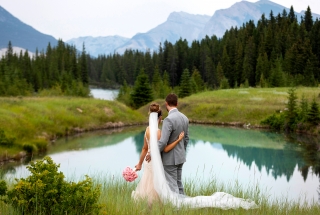 Top 3 Outdoor Wedding Locations in Canmore and Kananaskis
Tourism Canmore Kananaskis - October 21, 2015
There's nothing more majestic than saying "I do" with a mountain view.
We asked Rocky Mountain Weddings to provide us with information on the three most popular outdoor ceremony locations in Canmore.
#1 Quarry Lake
A beautiful location with stunning views of the Three Sisters mountain peaks. Elevated from the lake below for views as far as you can see. It's a bit of a walk up a grassy incline, but well worth it! Plenty of parking from a new, expanded parking lot.
Location: Close to the Canmore Nordic Centre, located next to Quarry Lake.
Parking and Restrooms: Parking area is approximately 300 metres from site and pit toilets are nearby.
Wedding Size: Quarry Lake Park can accommodate a wedding of up to 170 people.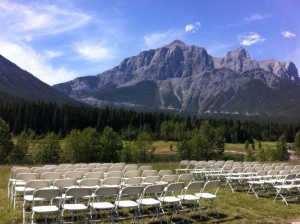 #2 Riverside Park
A wonderful for an intimate park style wedding along the Bow River! Only a short walk to the old rail bridge for pictures. Parking is limited.
Location: Located on the east bank of the Bow River. Close to downtown and has easy accessibility.
Parking and Restrooms: There is limited parking and no on-site washrooms.
Wedding Size: Riverside Park can accommodate a wedding of up to 100 people.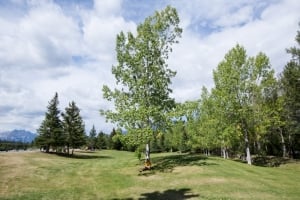 #3 Rundleview Parkette
A semi-private grassy spot that overlooks the Town of Canmore. Trees along the sides of the location make it feel intimate. Limited parking, but across the street from Quarry lake so there is a backup location if needed for parking.
Location: Almost right across the street from Quarry Lake, stunning mountain views.
Parking and Restrooms: Parking is limited, no on-site washrooms.
Wedding Size: Rundleview Parkette can accommodate a wedding up to 80 people.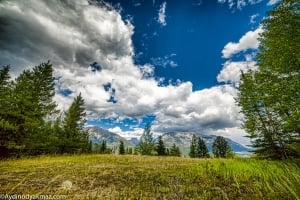 Photo by Aydin Odyakmaz
How to Book a Park
Looking to have your ceremony at one of these locations in Canmore? You'll need to contact the Town of Canmore to obtain a permit and check availability.
More info
More Outdoor Locations
Many of Canmore's hotels and venues have outdoor ceremony locations. Make a call to one of our local hotels to see if they can host your big day.
Contingency Location
The weather in the mountains is generally very unpredictable, and the summer months are no exception. Consider looking into hiring a local wedding planner that can coordinate a location change if necessary, especially if you're not from the area! Make sure you get to enjoy your day like you deserve to.