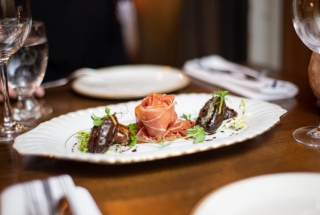 Canmore's Best Dining & Après
Tourism Canmore Kananaskis - January 22, 2019
Canmore is home to some of Canada's best eats and après hot spots. Pull up a chair, grab a bite, sip a local brew… and indulge!
---
Canmore has long been known as a destination for all things outdoors…but did you know that behind all the beautiful views is an amazing culinary scene? Canmore has everything you can think of from sizzling steaks to fresh sushi, curry houses to distilleries and craft breweries. Is your mouth watering yet? Take a look below for all of our recommendations and remember that you can walk to most of your destinations or take local transit!
The Best Dining:
Communitea – Try the healthy Buddha-style bowls that are eye-catching and delicious and sure to please any food bloggers palate.
Gaucho Brazilian BBQ – Is for meat lovers and if they're serving the BBQ pineapple, we highly recommend trying it before you get too full!
Mad Dog Cafe – This is the best-kept curry secret in the Bow Valley. Can you find it?
The Trough – One of Canmore's hidden gems. It's winter time, and that means we are on the hunt for something hearty. Go ahead and treat yourself to the Grilled Lamb Chops with rosemary black pepper marinade, parsnip puree, vegetable ratatouille, and parsnip chips. We guarantee you won't be disappointed.
Crazy Weed – You should definitely try the double-thick pan-seared pork chop. This awesome winter dish comes with cider gravy, delicious potato cake and an apple and fennel agro-dolce slaw that will have you asking for more.
Santa Lucia Trattoria – The owner, Frank, makes all his own sauces! We suggest having the Manicotti, the best in Canmore. It would make anyone's nonna proud.
Chef's Studio Japan – There's nothing better after being on the cold ski hill all day than a piping hot bowl of ramen! Located just off of Main Street.
Mountain Mercato – Your one-stop-shoppe for Prosecco and Charcuterie followed by a delicious dulce de leche latte.
Tapas – The best for bits and bites! If you're keen to try a selection of different foods, we suggest the mussels to start and get your belly warmed up for the onslaught of delicious dishes to follow this starter.
Quick Eats – if you're looking for something to take on the go, stop by JK Bakery Cafe, The Market Bistro, An Edible Life, or one of Rocky Mountain Bagel Co's two locations.
Le Fournil – Inspired French bakery with Canadian flair. The bread and patisseries will knock your socks off. Chef Tétreault's creations are so beautiful (and equally delicious), you can't help but take a photo.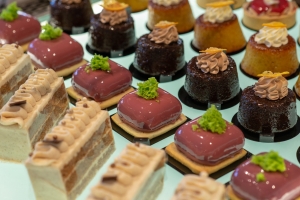 A Food and Drink Festival in the mountains? Yes please!
Canmore Uncorked Food + Drink Festival, April 25 – May 5th – Known for exciting and innovative events that take you on a delicious adventure to stimulate and delight all your senses, this food lovers festival is sure to please. Beginning with the ever sold-out long-table dinner and ending with a whiskey, wine, and beer tasting evening, this is one foodie event you won't want to miss!
Enjoy the best Canmore has to offer, delight in sampling new flavours and old favourites as our Canmore chefs tempt you with their creativity and inspire you with amazing food combinations.
Additionally, check out the Craft Beer and Wine festivals this spring where you'll be able to sample some of Alberta's (and Canada's) best!
Want to try a little bit of everything? How about a food tour?
Alberta Food Tours – What a great way to tour the town and try a little bit of everything! Stretch your legs on a four-hour walk that is equal parts food tour featuring eight local food businesses, and an authentic cultural experience. Discover the unique history, arts and outdoor culture of Canmore, the gateway to the Canadian Rockies while dining on delicious menu items at different locations throughout our cozy little mountain town.
The Best Apres Hour:
The Wine Bar at Sage Bistro – Check out this location for weekly wine specials or head to one of the wonderful distilleries and breweries scattered throughout Canmore.
Wildlife Distillery – There is a tasting room and a master cocktail bartender, but when you try their wonderful gin, be careful that you don't have a GINcident!
Where the Buffalo Roam Saloon – Located on Main Street, there are cocktails galore at this local watering hole! We bet you can't have just one…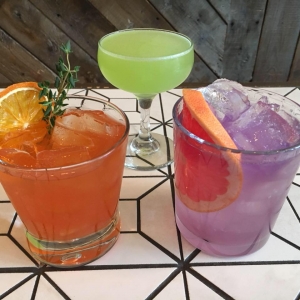 Canmore Brewing Company – Is craft beer more your style? Whet your whistle with a Misty Mountain IPA or a Georgetown Brown.
Half Hitch Brewing Company – Located centrally at the main downtown intersection, the Farmers Daughter Pale Ale is definitely the beer of choice, paired with a bowl of their curly fries!
The Grizzly Paw Pub & Brewing Company – A long time Canmore staple, the Rutting Elk Red is our beer of choice from this local brewery.
As you can see, the opportunity for excellent dining and après are limitless in Canmore! If you're seeking more activities to work up your appetite, check out our blog "20 Things to Do in Canmore in the Winter". Good eating and drinking to you!