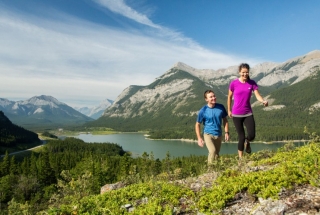 5 Must Do Kananaskis Hikes + Food Pairings!
Karen Fennell - June 10, 2016
Hiking + Eating = Perfection!​
It's never too early to lace up your hiking boots. We have matched our top 5 Spring Kananaskis hikes with the perfect après-meal or snack!
---
Breathe in the fresh mountain air and keep an eye out for blooming wildflowers on these early season hikes.
You'll also need fuel for your day exploring the mountains. If you can't decide where to eat, we've made some suggestions to match your hike with the perfect après-meal or snack.
This trail begins beyond the Kananaskis Village at the Stoney Day Use Area. The short stroll is less than 2km and passes through a serene aspen forest and a perfect opportunity for the whole family to get out and experience Kananaskis country.
Food Pairing: After this gentle hike, the kids may be hungry. Perfect for Troll Falls, Canmore's Rocky Mountain Flatbread Co. offers fresh-from-the-forest and locally and sustainably sourced ingredients that to fill your belly.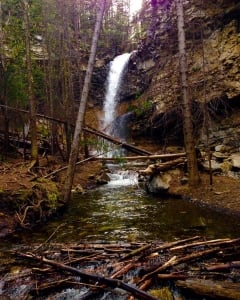 2) Karst Spring: 
This refreshing hike begins in the Mount Shark parking lot along Spray Lakes Road. The hike starts off as a logging road and then a narrower trail; it follows the mossy creek and then approaches the spring. There is minimal elevation gain and a great chance to spot moose in the lush meadows.
Food Pairing: Refresh after a hike at Karst Spring by visiting the Grizzly Paw Brewing Company in Canmore and their incredible handcrafted beers and sodas made from glacier-fed water. Imagine the water cascading down Karst Spring becoming transformed into a delicious hoppy beverage.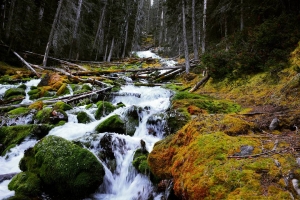 Photo by @crystaloutdoors
This hike is 13km roundtrip with stunning views of the rolling foothills in one direction and the sharp craggy peaks of the Rockies in the other. The viewpoint at the top of Prairie View also offers incredible views of Barrier Lake below.
Food Pairing: Continue down Highway 40 to Boundary Ranch where they offer authentic BBQ steak lunches and enjoy authentic Alberta beef after you've enjoyed the vista of the prairie landscape.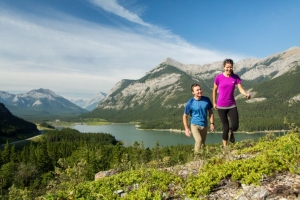 4) Ribbon Falls:
The trail begins beyond the Nakiska Ski area down the Ribbon Creek Road. This is a fairly long hike with a total 16.4km return, however the grade is very gentle with moderate elevation gain. The majestic Ribbon Falls at the end of your journey is well worth the trek.
Food Pairing: After a long day hiking, you'll want to enjoy a satisfying meal so head to Canmore and visit Gaucho Brazilian BBQ. Enjoy a variety of perfectly roasted meats (including incredible Angus Beef Ribs) when enjoying Rodizio, a Brazilian tradition.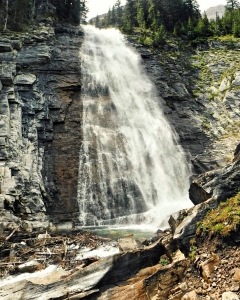 5) Heart Creek:
This short hike crosses over a series of bridges through a canyon to a small waterfall at the end. It is a great walk for families of all ages covering 3km roundtrip. The trailhead is just east of Canmore near Lac Des Arc. More ambitious hikers and scramblers can summit Heart Mountain and enjoy spectacular views of the valley.
Food Pairing: Heart Creek may be the Bow Valley's most romantic hike, so why not pair it with Tapas, the most Romantic Restaurant in the Rockies? Tapas offers delicious Spanish and Old World flavours and an incredible wine selection to wind down after a beautiful day in the mountains.