Nestled in the mountains west of Calgary, Mount Engadine Lodge is a backcountry retreat offering guests an authentic Canadian Rocky Mountain experience. Situated one hour from Canmore, in the Kananaskis Range of the Spray Valley Provincial Park, the lodge is open year-round and provides all of the charm, warmth and adventure of an intimate backcountry lodge while being easily accessible by car and offering guests luxurious amenities. Inside the main lodge, guests can relax in common areas next to the large stone fireplaces and wall-to-wall windows showcasing the spectacular surroundings. Breakfast, afternoon high tea and gourmet dinners are served in the large, bright dining area with stunning views of the mountains and wildlife. The lodge also provides a packed lunch for outdoor adventures and can cater to any dietary needs. Guests have the option to stay in suites located in the main lodge, private cabins or glamping tents. For those looking for a little extra adventure, a yurt is also available upon request. To help visitors truly disconnect, there are no in-room telephones, computer jacks, or televisions. However, the lodge does offer free Wi-Fi for those needing to stay plugged in. Mount Engadine welcomes the entire family and pet-friendly accommodations are available. Surrounded by lakes, trails of varying degrees, and a beautiful mountain backdrop, Mount Engadine Lodge has endless outdoor activities for every season. The highly knowledgeable staff at the lodge are very familiar with the Kananaskis area and can help guests plan their outdoor adventures. Spring, summer and fall activities include hiking, trail running, mountain biking, canoeing and fishing. Throughout the winter months, guests can snowshoe, cross-country ski, ice fish and dog sled. In response to COVID-19, the lodge has implemented additional sanitization and physical distancing measures to ensure the comfort and safety of guests. Guests have the option of individual tables or in-room dining during meal service and there is a cap of 15 guests in the dining room at any one time (in compliance with social distancing regulations). The lodge is currently open to overnight guests and to day visitors for afternoon tea from ‪2-5pm Monday‬ to Friday. The sauna has been temporarily closed. Please visit the website for more details.
25% off Extended Stays - Mount Engadine Lodge
25% off Extended Stays - Mount Engadine Lodge
Wake up to Winter in the Rocky Mountains with this extended stay offer from Mount Engadine Lodge. Stay one week or longer and your stay is 25% off.
CALL OR EMAIL TO RESERVE:
(587) 807-0570
[email protected]
View Package
FEATURED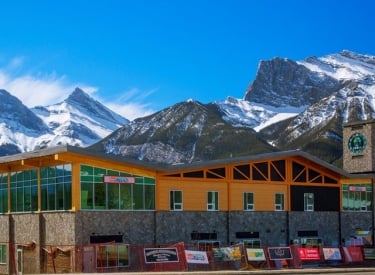 Canmore Downtown Hostel
FEATURED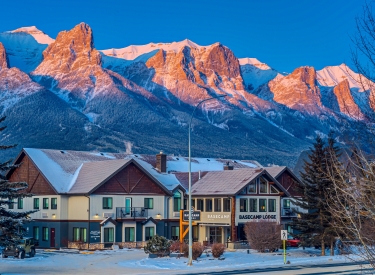 Basecamp Lodge
FEATURED
Creekside Villa