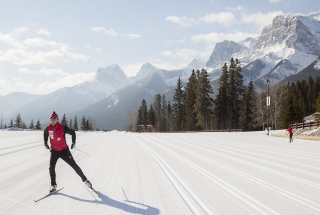 Winter may not be everyone's favourite season, but for former Olympic cross-country skier and small-business owner, Sara Renner, Canmore and Kananaskis is the perfect place for winter enthusiasts.
"Canmore has the gold-medal winter," says Renner who co-owns the Paintbox Lodge, a cozy boutique hotel, with husband and fellow Olympian, Thomas Grandi. "It's such a great place to enjoy winter."
The couple would know a thing or two about winter. Renner is a four-time Olympian and 2006 Olympic silver medallist, World Cup bronze medallist, and two-time national champion in cross-country skiing. Grandi's resume is equally impressive as a four-time Alpine skiing Olympian, back-to-back World Cup Giant Slalom winner in 2004, and a men's record-holder for most Canadian championship titles.
As Good as Gold
The career transition from Olympians to hotel owners hasn't required too much of a shift, says Renner. The couple understands the drive for excellence and hard work. "All my experience as an athlete was really beneficial translating into the business world because you have to be so solutions-oriented. You have to be positive, to make the best out of every situation you're given…There's not a huge difference in those two worlds," says Renner.
Renner recognizes this positive mindset is helpful in business and tourism. The Paintbox Lodge employs several athletes and for Renner, it's their attitude that makes for excellent employees. "I would say athletes are the gold standard. They're so motivated. They're of that mindset where performance matters."
Raising the Bar
Along with creating an intimate experience for visitors and sharing their love of Canmore, Renner and Grandi are passionate about promoting sustainable tourism. This dedication to the environment has meant conscious decisions around how they run the hotel. From creating most of the food they serve guests from scratch (including their homemade yogurt, which does not come in plastic containers) to working with local farmers and producers to source seasonal ingredients, Renner says it is not necessarily difficult to run a sustainable business but that it does require time, intention, and effort. "It's the simple things that are really important; they take work."
 Renner and Grandi took over the Paintbox (formerly known as the Mount Assiniboine Lodge) from her parents in 2010 after retiring from sport. Aside from installing a new Miele kitchen, Renner and Grandi decided to keep much of the hotel the same, including its small size. The hotel only has five rooms and a 10-to-12-person capacity, allowing guests to mingle with each other or eat together at the long, harvest-style dining room table, adding to its mountain chalet charm.
 With its prime location and potential for redevelopment, the Paintbox could easily be expanded but the owners want to maintain its integrity and focus on running a sustainable business that does not facilitate disposability.
 "Canmore's changing so much. I would hate to throw out a hotel because you can make more money if you redeveloped," says Renner. "We're all going to have to start thinking about how we can try to not take more than our fair share. As business owners, it's important to us. It gives a lot of pride to what we're doing."
Discover what makes Canmore and Kananaskis special, from the people who know it best. Think differently, travel more sustainably, and gain a deeper understanding of the mountains with Peaks Academy. Learn more.