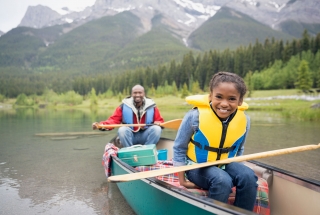 A Summer's Day in Canmore Kananaskis
Attractions & Sightseeing
Living like the locals do in Canmore Kananaskis is easy. With so many adventures to be had right outside of the doorstep of your accommodations, and downtown just a few moments away, you'll be living like the locals from the moment you first arrive.
During the summer months, there are plenty of adventures to be had including the multitude of hikes that can be found surrounding our little mining town. However, locals do much more than just hike in the summer months. Getting up with the sun is a surefire way to make sure you get everything in on your vacation to the Canadian Rockies. With so much daylight in the summer months, there is more time to fit more activities into one day.
NOTE: If opting for a morning hike, please be sure to check wildlife reports before you leave. Since wildlife is most active during dusk and dawn, we highly recommend bringing bear spray on your hike and being extremely aware of your surroundings by watching for fresh droppings and listening for noise.

The sun rises early, so with a red-eye alarm sounding at 2:30 AM, you and your pals can set off on one of the surrounding Canmore mountains for a sunrise hike. With the summer heat in full swing, starting early is the best way to enjoy all that the hike has to offer. Make sure someone brings along a pocket light or MSR stove, and you can all enjoy a hot cup of joe at the summit while you watch the rays of light spread their limbs across the valley. Your quick-hike options here are Ha Ling Peak, East End of Rundle false summit, or West Wind Pass to Wind Ridge.
After you've returned to the valley floor and indulged in a delicious mountain breakfast, you and your adventure buddies can rent paddleboards or kayaks from Bow Valley SUP or Rebound and head out on the open water. While if you're new to the sport, Rundle Forebay is a great option for your first paddle of the season, Spray Lakes or Kananaskis Lakes offer beautiful views for the more experienced paddlers.

Your afternoon itinerary might consist of more adventuring, such as climbing, but some may choose to golf in the heat of mid-day. There are numerous options for golf in the area. If you are already out paddling in Kananaskis, you may as well stop at Kananaskis Golf Course for a few holes, and if you are in Canmore you can take your pick from the Canmore Golf and Curling Club, Silvertip, or Stewart Creek. Each course offers something different, but all boast mountain views.
After you've enjoyed a round or two on the green and the evening breeze is beginning to cool the valley down, you may choose to head out to the crag or grab a pedal along the Canmore Nordic Centre Trails, or the Trail Network that surrounds Canmore. If a harness and chalk bag are your weapon of choice for the evening, there are great options nearby: Grotto Canyon, Cougar Creek, or Grassi Lakes all offer varied routes and the ever popular Mount Yamnuska is nearby and you'll have plenty of daylight left to reach the summit.

If you're relatively new to all of these sports, there are guides who will show you the ropes and make sure you have a safe and happy trip: Yamnuska Mountain Adventures, Rebound Cycle, and Gear Up will set you up with everything you need to indulge in some good, safe fun.
If you are the kind of person who likes to make the most of every day, these options will fill your trip to the brim. You'll definitely leave feeling like you've become one of the locals. We live it — you'll love it.