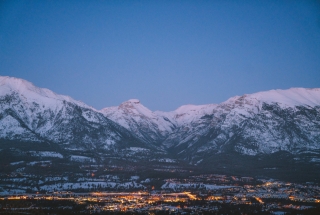 A Delicate Destination: Preserving the Bow Valley
Cradled by the Canadian Rocky Mountains, the delicate cross-section of wild animals, vegetation, and human activity makes for a unique ecosystem in Canmore and Kananaskis. 
Gareth Thomson, Executive Director of the Biosphere Institute of the Bow Valley, understands this more than most. 
"I was on a run with a couple of dogs when we stumbled upon a freshly killed elk. I looked up and saw the very first cougar I had ever seen, walking towards me from about forty metres away," Gareth recalls. "It looked at me as if to say, 'how dangerous is this human? Could I take it out?' But it was also looking [to its right]."
"When I looked to see where the cougar was looking, there, watching the cougar, was a tall, white, long-legged wolf. The first wolf I had ever seen." 
This encounter, just kilometres from his home in Canmore, is part of what Thomson says makes the region such a special place.
Nestled in Nature
"If you walk in any direction, it doesn't take long to get into the wilderness. People yearn for the wilderness. You can get away and get into nature. We cannot 'make' more wilderness," Thomson emphasizes. 
It's why, Thomson says, visitors not only need to travel safely—he escaped the cougar-wolf encounter unscathed by getting big and walking away slowly—but travel sustainably. 
"When you're here, the mountains are really close. The valley is [sometimes] only a couple kilometers wide. It's this crazy narrow area," Thomson says. 
"You have the alpine above the trees; the sub-alpine that's just coniferous trees; and then at the bottom, you have poplars, trembling aspens, and lots of grasslands. That's the montane ecosystem where ninety per cent of animals prefer to live. That's where us humans like to live, too."
In such close quarters, learning how to co-exist with those outside of your species has to become a way of life.
Past, Present, and Future
"Pretty much the full assemblage of wild animals that once lived here, still do," Thomson explains. "This is the most densely populated valley in the world where there are still grizzly bear and wolves using this area. We've done that by protecting wildlife corridors." 
And while the tough terrain, extreme weather, and predators may make it seem like the environment is indomitable to outside forces, this is far from true. The ecosystem's beauty is a result of its fragility. 
"There are no more wolverines left [in the Canmore area of the Bow Valley] because they are just too sensitive to human presence," Thomson explains. "Ecologically, if humans spend too much time in the wildlife corridors that animals use, they won't use them anymore." 
The same goes for the plants. "If too many people step off the trail and follow someone else's footsteps, they make a new trail because they start to kill the vegetation that they're walking on," Thomson warns. 
This symbiotic relationship is central to the region's culture. If people travel because they want to know what it's like to live like a local—human or otherwise, they should be given the opportunity to tread lightly, leave no trace, and let the beauty around them encourage humility towards their surroundings. Experiencing the Rockies means respecting its wildlife, says Thomson. 
"People will show up, look around, and say 'This is a special place!,'" Thomson reflects. 
All of us, visitors included, have a responsibility to keep it that way.
Discover what makes Canmore and Kananaskis special, from the people who know it best. Think differently, travel more sustainably, and gain a deeper understanding of the mountains with Peaks Academy. Learn more.