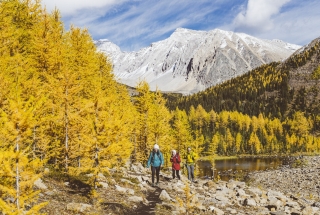 Top 10 Fall Activities In Canmore Kananaskis
Tourism Canmore Kananaskis - September 16, 2014
If you're looking for the ultimate guide to experiencing the best of autumn in the Canadian Rockies, you've come to the right place. From scenic drives to hiking adventures, and everything in between, we've got you covered. Get ready to fall in love with Canmore Kananaskis as we take you through the top activities to enjoy during the colorful fall season.
#1 Larch Hikes
Every year, visitors come from all over the world to marvel at the unique and spectacular changing colours of our famous larch trees. The only conifer to shed their needles, larch trees usually change to a golden yellow colour in mid-September and lose their needles in late October. Explore the best places to spot the idyllic larch scenery in Kananaskis or try a guided hike with Canadian Rockies Experience for a VIP experience.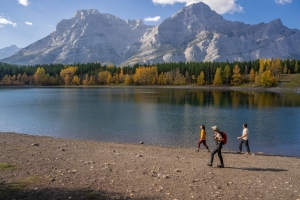 #2 Moose Tours
While bears are starting to go back into hibernation for the winter, fall is one of the most active times of the year for Moose. Take an evening tour with Canadian Rockies Adventure Center along Spray Lakes Road in search of these elusive and majestic animals.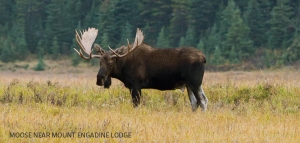 #3 Rock Climbing
When it starts to get colder, many Canmorites turn to the indoor climbing facilities at Elevation Place. With 1,000 square meters of climbing surface and 1,500 square feet of bouldering, Elevation Place is the perfect location to challenge yourself this fall.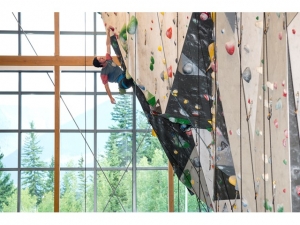 #4 Legacy Trail
The Legacy Trail bike path between Banff & Canmore stays open until mid-October. The 22km paved trail is a great way to get out and see the leaves change colour and offers spectacular panoramic mountain views.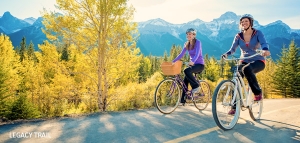 #5 Helicopter tour
Discover natural alpine landscapes and high mountain vistas on an alpine heli-hike. Sit back and enjoy the soaring mountain ranges from an eagle's eye view. You will be astounded by incredible views of alpine lakes, glaciers and waterfalls.
#6 Caving
Join Canmore Cave Tours rain or shine for a Natural History tour into Rat's Nest Cave: a wild, undeveloped cave under Grotto Mountain. Tour the 4km cave created by the meltwaters of ancient glaciers.
#7 Toss around a disc
Visit Trail Sports at the Canmore Nordic Centre to rent a Disc and try out the beautiful forested disc golf course. Watch the leaves change as you try your hand at this growing sport on one of the best and most challenging courses.
#8 Brewery tour
Trying to stay warm on a cool weekend in the mountains? Visit the Grizzly Paw Brewery at Tank310 for a tour of their state-of-the-art facility. Enjoy a frosty beverage as you learn about the beer-making process. Delicious hand-crafted sodas as well make it a great family-friendly activity.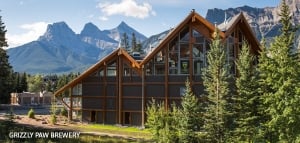 #9 Kananaskis Mountain Festival
Just down the road is the Kananaskis Mountain Festival. Until October 26th you can take part in wine tastings, women's wellness weekends, cooking courses and more. For information, check out: www.mountainfestival.ca
#10 Hit the Spa
After a busy day in the mountains, you'll want to unwind and relax. Visit one of the many Canmore spas, yoga & pilates studios for a little R&R.