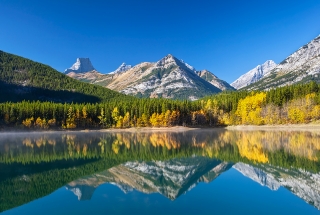 Top 10 Fall Activities In Canmore Kananaskis
Tourism Canmore Kananaskis - September 16, 2014
Fall is one of the best times of year to visit the Canadian Rockies. The temperatures are still warm, the colours are amazing, and wildlife is abundant. Our travel counsellors have put together their favourite fall adventures in the Rockies.
---
1. Larch Hikes:
Larch trees are the only needled tree to shed needles in the fall. They usually change to a golden yellow colour in mid-September, and loose their needles in late October. The trees at higher elevations turn first. Visitors come from all over the world to marvel at the unique and spectacular changing colours of the Larch trees.
Top 5 Larch Hikes:
Mt. Lorette Ponds – This day use area is located on Hwy 40 (Kananaskis Trail) just a few minutes South of Barrier Lake. This great picnic spot is also an ideal location for fishing as the ponds are stocked with rainbow trout. Enjoy a stroll along the paved path around the ponds.
Chester Lake – Located on highway 742 (Spray Lakes Road) This 8 km hike is an idyllic Larch hike. Most of the 300m elevation gain is achieved within the first few kilometers and then the trail opens into beautiful alpine meadows.
Burstall Pass – Located on highway 742. Burstall Pass is a 15 km hike with 470 m elevation gain. The trail goes through forests and willow flats then climbs steeply to alpine meadows.
Rawson Lake – Just past Upper Kananaskis Lake, Rawson is a perfect moderate fall hike. The 7.8km trail ends at a beautiful alpine lake surrounded by mountain peaks and alpine meadows.
Ptarmigan Cirque – Located at Highwood Pass, just past the Kananaskis Lakes. A 3.6km short and steep trail with a 230m elevation. The trail leads to a fragile alpine meadow and a spectacular view of the surrounding mountains and forests of larch trees.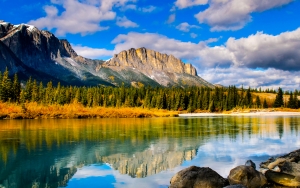 ---
2. Moose Tours:
While bears are starting to go back into hibernation for the winter, fall is one of the most active times of the year for Moose. Take an evening tour with Canadian Rockies Adventures along Spray Lakes Road in search of these elusive and majestic animals.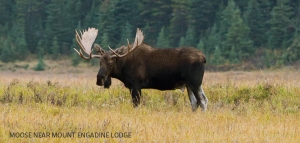 ---
3. Rock Climbing:
When it starts to get colder, many Canmorites turn to the indoor climbing facilities at Elevation Place. With 1,000 square meters of climbing surface and 1,500 square feet of bouldering, Elevation Place is a the perfect location to challenge yourself this fall.
---
4. Legacy Trail
The Legacy Trail bike path between Banff & Canmore stays open until mid-October. The 22km paved trail is a great way to get out and see the leaves change colour and offers spectacular panoramic mountain views.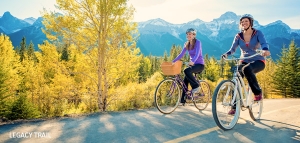 ---
5. Helicopter Tour
Discover natural alpine landscapes and high mountain vistas on an alpine heli-hike, or just sit back and enjoy the soaring mountain ranges from an eagle's eye view. You will be astounded by incredible views of alpine lakes, glaciers and waterfalls.
---
6. Caving
Join Canmore Cave Tours rain or shine for a Natural History tour into Rat's Nest Cave: a wild, undeveloped cave under Grotto Mountain. Tour the 4km cave created by the meltwaters of ancient glaciers.
---
7. Frisbee Golf
Visit Trail Sports at the Canmore Nordic Centre to rent a Disc and try out the beautiful forested Disc Golf Course. Watch the leaves change as you try your hand at this growing sport on one of the best and most challenging courses.
---
8. Brewery Tours
Trying to stay warm on a cool weekend in the mountains? Visit the Grizzly Paw Brewery for a tour of their new state-of the art facility. Enjoy a frosty beverage as you learn about the beer-making process. Delicious hand-crafted sodas as well make it a great family-friendly activity.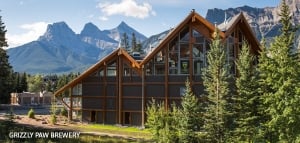 ---
9. Kananaskis Mountain Festival
Just down the road is the Kananaskis Mountain Festival. Until October 26th you can take part in wine tastings, women's wellness weekends, cooking courses and more. For information, check out: www.mountainfestival.ca
---
10. Hit the Spa
After a busy day in the mountains, you'll want to unwind and relax. Visit one of the many Canmore spas, yoga & pilates studios or visit one of the 75 incredible restaurants in town.
Looking for more advice on planning your trip? Ask us online on Twitter or call one of our information centres at 403-678-5277