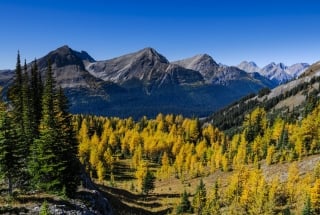 Top 7 Larch Hikes In Canmore and Kananaskis
Tourism Canmore Kananaskis - September 1, 2020
The best place to experience fall is in the Canadian Rockies of Canmore and Kananaskis
​Visitors come from all over to marvel at the unique and spectacular changing colours of the Larch trees in Canmore and Kananaskis.
​Larch trees are the only needled tree to shed needles in the fall. They usually change to a yellow colour in mid-September giving the mountain landscape a golden glow that attracts visitors from around the world hoping to catch a glimpse of the changing of the seasons.
The trees lose their leave in mid to late October, so the time to experience this phenomenon is brief. Make sure you get the most out of your trip by checking out one of these top-rated larch hikes!
---
#1 Mt. Lorette Ponds
The Mt. Lorette day-use area is located on Hwy 40 (Kananaskis Trail) just a few minutes South of Barrier Lake. This great picnic spot is also an ideal location for fishing as the ponds are stocked with rainbow trout. Enjoy a stroll along the paved path around the ponds.
#2 Chester Lake
Located on Highway 742 (Spray Lakes Road), Chester Lake trail is 8 km of idyllic larch scenery. Most of the 300m elevation gain is achieved within the first few kilometres and then the trail opens into beautiful alpine meadows.
#3 Pocaterra
Pocaterra is an incredible one-way ridge hike that offers incredible views and you don't have to retrace your steps on the way back. Leave with two vehicles (and some friends) and leave one at the trailhead and one at the exit. This 11 km trail is considered a full-day hike and likely will take up to 7 hours. The views and the journey are worth the time, and you'll have several incredible summits to take a trophy photo on.
#4 Burstall Pass
Burstall Pass is one of Kananaskis best fall hikes and has incredible views of autumn colours, lakes, and mountains. The trailhead is located on the Smith Dorrien Highway / Spray Lakes Rd and vehicles will have to traverse some gravel roads to reach it.
If you're coming from Canmore, use the Smith Dorrien Highway that passes the Nordic Centre to reach the trail. Coming from Calgary, you can either choose to use Highway 40 and then connect to the Smith Dorrien or continue to Canmore and use the Smith Dorrien from there. Both routes have similar travel times, but the Highway 40 route is smoother.
Burstall Pass is a moderately difficult trail that has a 450m elevation gain.
#5 Ptarmigan Cirque
Located at Highwood Pass, just past the Kananaskis Lakes, is the exceedingly popular Ptarmigan Cirque. A 3.6km short and steep trail with a 230m elevation. The trail leads to a fragile alpine meadow and a spectacular view of the surrounding mountains and forests of larch trees.
#6 Three Isle Lake
If you're searching for a challenging but picturesque overnight fall hike, the Three Isle Lake out and back trail is for you. This 20.4-km hike features a waterfall that'll knock your socks off. Another bonus? You can bike the first 3.8 km!
#7 Arethusa Cirque
Arethusa Cirque is a moderate 4.5-km hike with gorgeous autumnal views located in Peter Lougheed Provincial Park. On this trail, you can look forward to vibrant larches, a picturesque alpine meadow and sweeping vistas with dramatic peaks.