Current Conditions
The weather in Canmore and Kananaskis can vary greatly depending on the time of year. Regardless of the season, it's always a good idea to check the forecast before you head out as the weather can change rapidly in the mountains.
View Current Conditions
Average Monthly Temperatures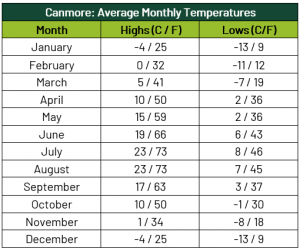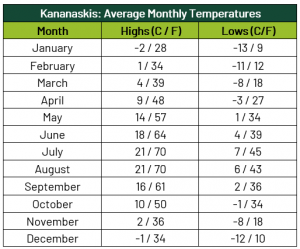 Current Conditions
During the summer months, air quality can be affected by wildfires in the area. Keep an eye on current conditions and learn how to reduce your exposure if air quality is low:
Stop or reduce your activity level if breathing becomes uncomfortable or you feel unwell

Drink lots of water

Limit your time outdoors and keep windows closed
View Current Conditions
Fresh Air Centres and Indoor Activities
Need a place to find clean, cool air?
Elevation Place
and the Canmore Recreation Centre are open late and have public sitting space available if you need to take a break from poor air quality conditions. For ideas on how to enjoy Canmore and Kananaskis during low air quality periods, check out our blog on the
top 9 low-key activities
to do in the area!
With proper preparation, you can enjoy all the natural beauty that Canmore and Kananaskis have to offer in any weather condition. Learn about how to dress for the elements so you can prepare yourself for a safe and comfortable adventure.
Summer (June-August)
If you're planning on visiting Canmore and Kananaskis in the summer, you can expect warm weather during the day and cooler evenings once the sun sets behind the mountains. While the summer months are usually sunny and dry, you might also experience some occasional rain showers or thunderstorms.
What to pack
Warmer layers and a light jacket for the cool evenings
Water bottle – make sure to stay hydrated!
Appropriate footwear and gear for walking or hiking on trails
Sunscreen – UV exposure is strong at our elevation, so it's important to protect yourself to avoid getting burned
Tick and bug repellent – summer is tick season in the Rockies. Hiking in the appropriate clothing is essential to avoid getting ticks on your body, along with tick repellent. Always remember to do a tick check after spending a day outdoors!
Winter (November-March)
Winter in Canmore and Kananaskis can be a magical time of year that can be fully enjoyed if you're dressed for the elements. You can expect snow (and a lot of it!) and cold temperatures, so it's important to layer up and be prepared for the frosty mountain chill.
What to pack
Lots of thermal layers!
An insulated coat and a mid-layer
Hats, gloves, scarves, warm socks – did we say layers?
Snow boots
If you're planning on hitting the trails, it is encouraged to bring ice cleats, crampons, snowshoes, and/or poles
Be sure to check out our Winter Safety Tips blog post for more information!
Spring and Fall
One thing you can count on during spring in Canmore and Kananaskis is warmer temperatures. As the snow melts away and the days get longer, you'll see locals shedding their heavy winter coats for lighter layers. Don't be fooled though – a sudden spring snowstorm can be right around the corner!
We find similar conditions in the fall – as summer fades away and the crisp air sets in, the mountains turn into a beautiful canvas of gold and yellow. During this time of year, you can expect cool temperatures with a mix of sun and clouds – it's even possible to get an early snowfall!
What to pack
A rain jacket and/or a light winter jacket
Warm layers
Hats, gloves, scarves, warm socks
Waterproof shoes or boots
Looking for ways to enjoy Canmore and Kananaskis in the shoulder seasons? Read through our spring and fall itineraries to get inspired for your trip!