It's the most wonderful time of the year, and there's no better place to spend it than in the Canmore and Kananaskis. Uncover new traditions, make memories you'll cherish, and find joyful ways to slip into the local mountain culture. Take the stress of planning away this season with our mountain-inspired holiday itinerary.
---
Day 1
Start your holiday off at the Drake Inn
Tucked away along Policeman's Creek, The Drake Inn is the picture-perfect, upscale holiday accommodations just steps away from the heart of Canmore. With rooms featuring modern mountain décor, this quaint property is sure to impress whether you're visiting as a couple, with family, or solo. Nestle into your luxury King- or Queen-sized bed and get ready for your Christmas adventures. 
Soar through the sky like Santa
Winter in the mountains is a magical time, and there's nothing more invigorating than treating yourself to the breathtaking sights of our rich and rocky topography. You won't get better panoramic views of the Canadian Rockies than on a sightseeing tour with Alpine Helicopters. Don't hesitate to ask your pilot any questions you might have about the landscape below – they will be sure to wow you with their insider knowledge of our beloved mountains.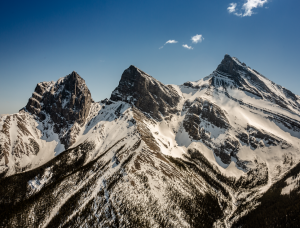 Wander through the Festival of Trees
Come roam through magical forests and Christmas wreathes inside The Malcolm Hotel. The Rotary Club of Canmore Festival of Trees is a local holiday tradition with beautifully decorated conifers and special events and activities for the whole family. Did we mention the best part? Tickets are free! Make sure you register ahead of time to reserve your space.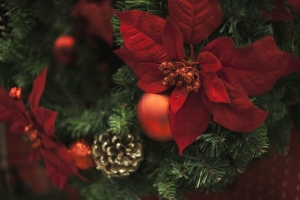 Divine dining
Once you've finished exploring the decorative forest, mosey over to the Malcolm's cozy dining venue at the Stirling Lounge and Grill featuring classic cuisine with a contemporary twist. The rustic-elegant ambiance is perfectly complemented by the views of our iconic mountain scenery. There isn't anything we wouldn't recommend off the menu – all the food and beverage options are delightfully delectable.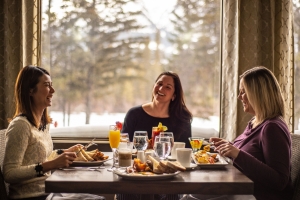 Day 2
Wrap your hands around a warm beverage
On a crisp winter morning, nothing hits the spot quite like a steaming coffee from Beamer's Coffee Bar. With many of the world's best coffees, Beamer's gourmet beans come direct from coffee farmers, bringing you the best possible product. The seasonal eggnog lattes and peppermint hot chocolates will be sure to bolster your holiday spirit.
Christmas shop-'til-you-drop
With a warm beverage in hand, it's time to explore the one-of-a-kind retailers than can only be found in downtown Canmore. On the hunt to find the perfect gifts for your loved ones, you can't pass by Project A, Alberta's Own Marketplace, and the Tin Box for locally inspired keepsakes. You're guaranteed to find unique gifts that will have your family asking, "where'd you get this?"
Shopping doesn't stop when you leave downtown. Add some decadent treats to the list from Le Chocolatier's assortment of festive delights. For those who love (holiday) spirits, grab some locally crafted gin, vodka, or whiskey from Wild Life Distillery.  
Fill up on flavoursome fare
Once you've completed all the shopping on your list (and checked it twice), it's time to treat yourself to a mouth-watering meal from Iron Goat Pub. Holidays are for comfort foods, and there's nothing cozier than dining in while gazing out towards our vast mountain ranges through the floor-to-ceiling windows. Delicious meals and excellent service await!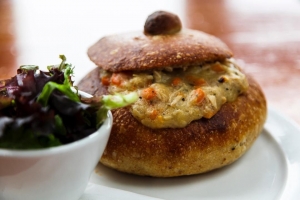 Sing along to your favourite Christmas tunes
Come see a joyful Christmas Cabaret at the Carter-Ryan Gallery and Live Theatre, guaranteed you get you and your family in the Christmas spirit. Get ready for a night of music, laughter, and unforgettable Christmas stories in the festive setting of the Carter-Ryan Gallery, where snow-capped mountains set the perfect scene.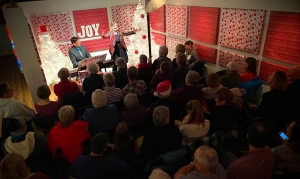 Day 4
Race down the hills
Tubing is an invigorating, family-friendly activity for the young and the young at heart – no equipment or skill required. Throw on some warm winter attire and feel the wind and sun on your face as you cruise down the Nakiska tubing hill in the spectacular slopes of Kananaskis Country. 
Relax into picture-perfect moments
Make your holiday dreams come true on an actual horse-drawn sleigh with Boundary Ranch. Bundle up in your coats and cozy blankets and take in the idyllic forest landscapes as you're transported through the trails of Kananaskis Country. A turn around at the Teepee Village showcases some local heritage before heading back to the ranch for an optional marshmallow or s'more roast around the crackling bonfire.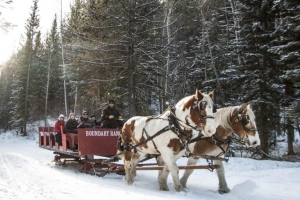 Dinner and entertainment
Looking for dinner and entertainment for the whole family? Check out CanGOLF and Finchy's Bar and Grill. The state-of-the-art golf simulators aren't just for the pros – arcade-style games loaded onto the simulator means there's something for everyone. Recently voted into the top three best new restaurants in town, the menu showcases "healthy comfort" foods and specialty golf-themed cocktails with ingredients from breweries, distilleries, and food distributors right here in the Bow Valley.
Day 4
Have an "ice" day
Your winter wonderland experience isn't complete without a morning on ice. Swing by Gear Up Sports to pick up skate rentals and head over to the ever-popular rink on 7th Ave at Mallard Alley, or one of the other four public rinks in town. If you already feel confident on skates and are looking to test your skills even further, see what it takes to be a professional hockey player with Pinnacle Hockey. Get suited up in full hockey gear and learn how to play this classic Canadian sport directly from professional hockey coaches. Bookings are only available for larger groups.
Solve a mystery
Combine family-friendly fun with Canmore's stunning river trails and viewpoints with an outdoor escape room-inspired scavenger hunt. Mystery Towns Clue-Solving Adventure is a digital platform that gives you and your team a series of brain teasers and puzzles set to an exciting storyline. Test your skills and learn something new about Canmore on one of three local quests as you follow a trail of clues around town.
'Tis the season for indulging
Embrace the wilderness in a whole new way with a meal made from ingredients literally from our own backyard. Chef Tracy Little (as seen on Chefs vs Wild!) at Sauvage is known for her sustainable and creative approach to food, changing the menu seasonally based on what can be sourced locally at any given time of year. Let the servers guide you through a sensory experience and treat your taste buds to the freshest dining in town.