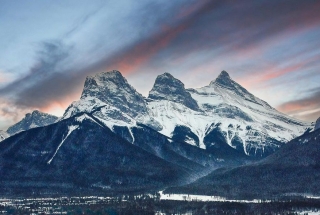 Wrap Yourself in Winter
Tourism Canmore Kananaskis - November 1, 2021
What do you picture when you imagine the perfect place for winter adventures? Valleys of pure white snow surrounded by epic mountain ranges? Gorgeous evergreens glowing gold in the bright sunrise? Majestic vistas that call out to curious explorers? Canmore and Kananaskis offer all of this beauty and much more. We've put together this list of ways for you to bundle up and find your winter adventure here in the Canadian Rockies.
Meet Our Mountains
Our location among the Rocky Mountains provides an abundance of possibilities for the curious adventurer. Local guides offer a variety of opportunities to get up close and explore our staggering mountain peaks.
Book in with Canadian Rockies Experience for private sightseeing adventures from beginner snowshoeing expeditions to hikes up to frozen alpine lakes. You'll be a VIP from start to finish as you get whisked away in a luxury vehicle right from your accommodations and out to the mountains. Lunch and equipment are provided, not to mention the insights and expertise from locals who call these mountains home. You can even customize a tour to answer your own personal call to the mountains. 
Grotto Canyon is one of the must-do treks of Canmore and Kananaskis with incredible views throughout. Learn about the history of the ancient canyon from an Indigenous lens with a guided tour from Mahikan Trails. This unique experience will open your eyes to the signs and messages of the landscape as you take in the cultural teachings that give a fresh perspective of the serene landscape.
Feeling the need to soar? Get unparalleled birds-eye views of our rich and rocky topography with a heli-tour from Alpine Helicopters. "Spectacular" hardly begins to describe the awe-inspiring mountain and valley panoramas available from the air. With several Canmore heli-tours available, this bucket list experience is not to be missed this winter.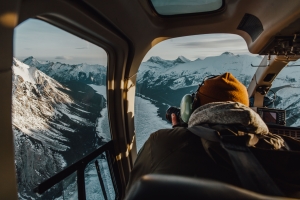 Leave the Dog Days Behind
Experience the time-honoured tradition of dog sledding with a paw-powered trek by Canmore's Howling Dog Tours Ltd. Since 1995, Howling Dogs has been leading breathtaking tours in the front ranges of the Canadian Rockies. Learn to mush your own team of huskies with the two-hour Unleash the Musher tour or venture out on the epic half-day Dog Day Afternoon featuring a fireside snack and hot beverage.
Canine lovers should also check out the Yamnuska Wolfdog Sanctuary which offers chances to get up close and learn about the majestic Wolfdog breed while supporting an important cause.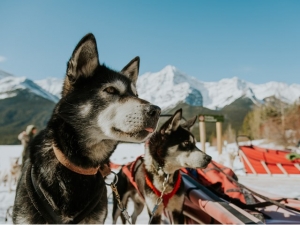 Ease into a New Adventure
Learn to safely navigate and winter in the mountains with PeakSTRATAGEM. Whether you're a complete beginner or have years of outdoor experience, PeakSTRATAGEM is here to help you find your adventurous side this winter with technical skills, trip planning, communication, and risk management to help make your outdoor journeys safe, successful, and memorable. Learn avalanche awareness, try out ice climbing, and receive guidance from experts who can teach you how to safely explore the snowy backcountry.
Want even more tips to ensure you're keeping safety in mind during your winter voyages? Check out these 4 Winter Safety Tips. 
Looking to take on a pedal-powered snow quest? With the advent of fat biking, cycling is no longer just a three-season activity. Easily glide over the snow with extra-large tires that allow you to explore trails where traditional bikes would lose traction. Rebound Cycle and Adventure Centre offers fat bike rentals and knowledgeable guides are available to show you amazing trails.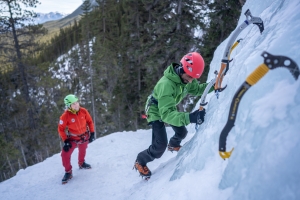 Explore the Great Indoors
Let's face it: as much as we'd like to spend all day and night frolicking in our unfiltered wilderness, it's nice to have somewhere cozy to warm up with friends. 
With a thriving craft beverage scene that continues to grow, Canmore and Kananaskis offer opportunities to warm up indoors with delicious beer and spirits. Get behind-the-scenes access and meet some of the innovators creating Alberta's best tipples with Canmore Brewery and Distillery Tours. With comfortably heated transportation between locations, you can take in the beauty of the Rocky Mountains from the warmth of the brew bus.
A piping hot pick-me-up is available at the award-winning Eclipse Coffee Roasters, who have been sourcing and roasting exceptional coffee in Canmore since 2014. Perfectly pulled espresso and rich pour-over offerings await, along with delectable baked goods and a diverse lineup of over 10 freshly roasted bean varieties available to go. Still in the mood for something a bit more spirited? Eclipse also offers beer and cocktail options from some local favourites like Wild Life Distillery and the Grizzly Paw Brewing Company.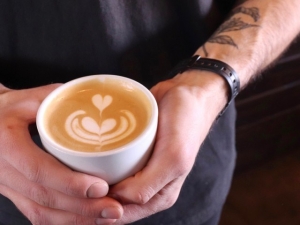 Float On
When it's time to wind down after an epic day of exploration, why not embrace an anti-gravity approach with a float session at Float Canmore? Floating is a rejuvenating experience that offers you an opportunity to shut off the external noise of our daily, technology-driven environment and experience deep physical and mental relaxation. It's the perfect way to unwind after a day of winter exploration. Float Canmore also offers infrared saunas and massage therapy for maximum relaxation.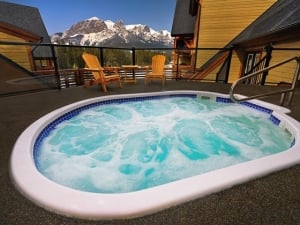 Join Us This Winter
Whatever your winter adventure goals, Canmore and Kananaskis have something to help you embrace the outdoors and explore new territory.
Where will winter in Canmore and Kananaskis lead you?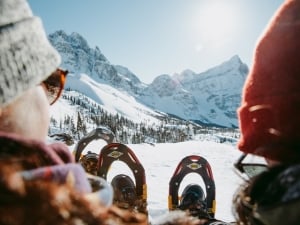 Create your own magic moments this winter.