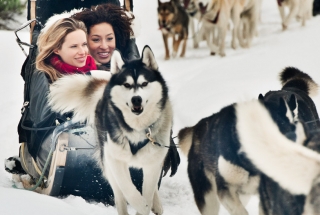 5 Ways to Ease Into Adventure This Winter in Canmore Kananaskis
Tourism Canmore Kananskis - October 17, 2015
When the weather in Alberta is cooling down, things are starting to heat up in Canmore and Kananaskis. Whether it's your first visit or your hundredth, you'll never run out of things to do. If you're wondering where the fun should start, try our list of can't-miss activities that will get you moving this winter.
---
#1 Dog sledding
It truly is about the journey as much as the destination – that's certainly the case when you trade high-powered motors for a team of sled dogs. Experience dog mushing at its best and move in comfort while you make your way through snow-packed trails and valley descents. Mad Dogs & Englishmen Expeditions and Howling Dog Tours both offer unforgettable tours that will leave you with lasting memories.
#2 Snowshoeing
If you're looking for peace and quiet, a romantic walk, or simply a leisurely way to take in the mountain countryside, snowshoeing might be just for you. With a number of trails and circuits in Canmore and Kananaskis that cater to every skill and fitness level, it's a relaxing and affordable way to enjoy alpine beauty at its best. Pick up rentals from Gear Up Sports and hit the trails on your own or in a group. If you are new to snowshoeing or want to elevate your experience, check out Canadian Rockies Experience for a private sightseeing and guided snowshoeing tour delivered with a hint of luxury by guides who call the mountains home.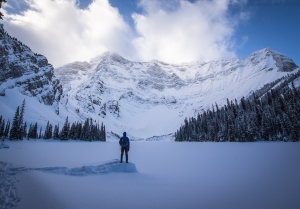 #3 Cross-country skiing
Since hosting the 1988 Winter Olympic Nordic events, Canmore has become globally recognized as one of the world's best cross-country skiing areas. The Canmore Nordic Centre provides over 100 different groom trails and cross-country ski rentals are available on site. As you glide the trails you might just bump into a current or future Olympian! Trail Sports at the Nordic Centre offers ski rentals and lessons right on the track.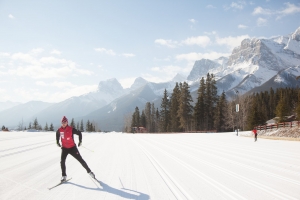 #4 Caving
Under Grotto Mountain is an extensive network of underground caves. Regardless of the season, the caves maintain a 5°C (41°F) temperature. Knowledgeable guides from Canmore Cave Tours will take you on a tour of this exciting underground world – etched and sculptured over hundreds of thousands of years – through twisting passages and chambers of stalactites and stalagmites, animal bones, and fossils.
#5 Skate & shop in Downtown Canmore
Show off your ice skating skills at Canmore's famous downtown frozen pond. Just two blocks North of downtown Canmore on 7 Ave, the downtown rink hosts numerous winter events and festivals. There's even a heated gazebo for lacing up your skates and warming up. It's the perfect place to play a little hockey, go for a romantic skate, or take the kids to burn off some energy. While you're downtown, make sure to check out the latest mountain styles at Liberty Clothing or Mountain Mercantile or peruse the stunning sculptures and works of art at the Carter-Ryan Gallery.
No matter what kind of adventure you come for, be sure to top off an active day in style with a tasty meal and a relaxing massage. Canmore and Kananaskis offer all the excitement of a winter wonderland coupled with the lively spirit of a mountain town.