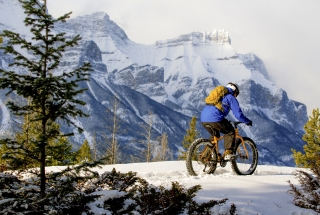 Fat Biking In Canmore
Adventure
Winter Experiences
Karen Fennell - February 4, 2015
Extra-large tires, hand warmers, and strange frames are some of the signatures of a fat bike – a relatively new cycling trend that has quickly become a must-try winter sport.
---
Extra-large tires, hand warmers, and strange frames are some of the signatures of a fat bike – a relatively new cycling trend that has quickly become a must-try winter sport. Using their ultra-wide tires (up to 4 inches across) fat bikes can ride on top of snow-covered trails with improved traction where traditional mountain bike tires would sink. Using a fat bike opens up a world of new winter adventures and trails are no longer limited to those with skis or snowshoes.
Ryan Draper, co-owner and manager of Rebound Cycle in Canmore, recommends the following trails in Canmore Kananaskis for both new and experience riders to try.
---
INTRODUCTORY LEVEL
Bow River Loop
This trail runs along the edge of the Bow River, beginning close to downtown Canmore. With incredible views of the Three Sisters Mountain and Old Engine Bridge you'll have no shortage of great scenery for your ride. The trail is mostly flat and can be accessed via Riverside Park.
Quarry Lake Recreation Area
The Quarry Lake area has several trails beginning at the back of the lake and nearby dog park and is also an access point for the more difficult Highline Trail. If you venture into the dog park, watch for dogs as fast-moving bikes can become a fun target to chase. Follow the power line trail to the right (west) and make a loop up toward the Trans Alta Dam and follow the reservoir back to Spray Lakes Road. Follow the road downhill to return to the Quarry Lake Parking lot.
Canmore Nordic Centre
The Nordic Centre is a world-famous cross-country ski facility used during the 1988 Winter Olympics. Winter cycling is permitted, but cyclists are required to buy a trail pass at the Day Lodge. Not all trails are available to cycle on, so ask for a trail map at the Day Lodge.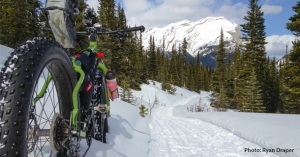 INTERMEDIATE
Cougar Creek / Horseshoe Loop
Beginning next to Cougar Creek, this trail system rises up to the bench of Grotto Mountain and levels out on a loop that gives you stunning views of the Three Sisters and Mount Lawrence Grassi. Follow the East side of Cougar Creek for 700 metres before turning right onto the first trail. Be aware that trail closures are in place in some areas over winter, affecting parts of the Horseshoe Loop/G8 trails.
Highline Trail
Accessed through the Quarry Lake Parking Lot, the Highline Trail is a popular trail with snowshoers and hikers in the winter. The packed snow makes for great fat biking conditions. With a 350 metre elevation gain, this trail can be a challenge, but once you reach the top the trail it levels out and features beautiful views towards the Town of Canmore and Mount Lady MacDonald. The Highland Trail has multiple decent options including and exit in the Peaks of Grassi subdivision (2.6 KM) and the Three Sisters Mountain Village (6 KM).
ADVANCED
Goat Creek Trail
The Goat Creek Trail head begins just off Spray Lakes Road / Smith Dorrien Highway and travels 20 km to Banff. Depending on weather and snow conditions, some portions of the trail may require walking your bike. The trail travels mostly downhill, but has a few steep climbs. The trail finishes next to the Banff Springs Golf Course. Riders can return via the trail or take the Roam Bus back to Canmore (a second vehicle may be required to go and pick up your car at the trailhead).
---
About Rebound Cycle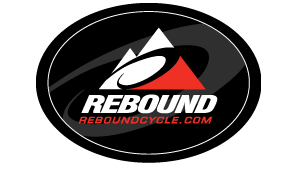 One of the premier bike shops anywhere, known world-wide for quality staff, bikes, rentals and customer service. Carrying bike brands like Scott, BMC, Pivot, Trek, Niner, Salsa, Foundry & many others. With mountain, road and fat biking as our specialties we aim to stock only the highest quality brands our industry has to offer in those categories.
Please Note: Because fat biking is relatively new, not all provincial parks have plans to address to sport, or groom trails with fat bikes in mind. Use caution and check trail reports before attempting any of these trails.