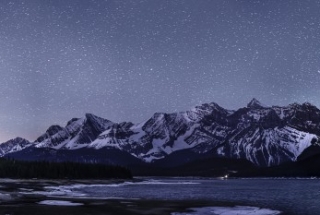 Stargazing in Canmore Kananaskis
Tourism Canmore Kananaskis - April 29, 2019
Witness the most beautiful show on Earth! With some of the darkest skies, Kananaskis offers visitors endless opportunities for stargazing, Aurora chasing, and Milky Way viewing.
---
As you walk through the forest, excited chatter fills the quiet night almost the same way your headlamp lights the pathway. You feel a buzzing along your limbs as butterflies dance in your belly and you suddenly feel very much like a child again. Once you reach your destination, you spread a blanket out on the ground at your feet, settle in, and click off your headlamp. Eyes wide, you allow a moment for your eyes to adjust to the sudden darkness. A gasp escapes your lips as you point, although no one pays any mind, as you are all witnessing the same thing – pure magic.
Having very little light pollution, Canmore Kananaskis offers endless opportunities to view the stars and celestial phenomena under some of the darkest skies in the world and allows you the chance to experience something that is far from mundane. Do you remember all of the constellations? You might want to brush up on your astronomy because you're in for quite the show.
For those of you who are less adventurous and are not too keen to traipse through the forest at night, try making the short drive out to Spray Lakes or Barrier Lake. If you're keen for some camping or a longer evening, head out to Kananaskis Lakes for some of the darkest skies in the area.
The closer you are to the stars, the brighter they will be. Gather your pals and head out for a quick summit session to Barrier Lake Lookout, or the Lady MacDonald Heli Pad. If Lady Aurora shows her true colours, this will be best viewed from a high vantage point!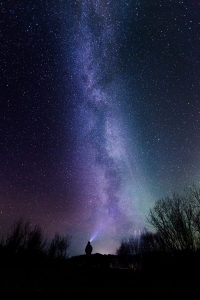 Head out for a soak at your mountain basecamp. What better way to take in the constellations than from the comfort and warmth of your accommodation's pool or hot tub? Our suggestion – take a rolled-up towel to place your head on, so you can relax for hours.
If you don't want to venture far from home – setup right in your own backyard. A telescope will come in handy to help you get a closer look, but at least the snacks will be nearby and the sleepy stumble to bed after a night of stargazing will be easy to achieve.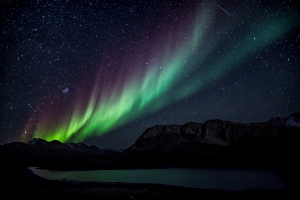 If you're unsure of where to look or what to look for, there are a few applications that can lend a hand while out searching for stars.
Photopills – An AR software dedicated to the night sky and Milky Way. Find optimal viewing areas and times, calculate when the sun and moon will set or rise, and calculate every detail for your photography including DoF, FoV and timelapse.
Skyguide or Starwalk 2 – Search for stars by coordinates, view stars in AR, discover new constellations.
Northern Lights Aurora Alerts or Aurora Forecast app – set up Aurora alerts, check the NOAA forecast, find optimal viewing locations, and plan your evening of magic.
---