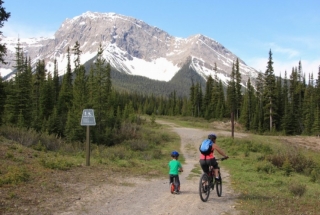 Top 10 Things To Do As A Family In Canmore Kananaskis
Tanya Koob - July 8, 2013
Summer is here and Canmore is a great jumping off point for family-friendly adventures from gentle walks with a stroller to single track mountain biking that will leave your teens screaming for more.
---
Discover Family Blogger Tanya Koob's top recommended activities for families in Canmore Kananaskis.
Guest Blog: Top 10 Things To Do As a Family in Canmore Kananaskis
By: Tanya Koob – Adventurer and Family Blogger
Summer is here and Canmore is a great jumping off point for family-friendly adventures from gentle walks with a stroller to single track mountain biking that will leave your teens screaming for more.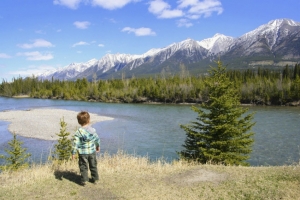 ---
1.  Bike or hike along the Bow River in Canmore – There are approximately 70km of maintained trails located inside the town boundaries and you'll find the path along the river to be very pleasant for biking or walking as a family.  Stop at the Visitor Centre to pick up a map.
2.  Go for a picnic at Quarry Lake – Bring your bathing suit with you because this is the town swimming hole and a very popular place on a hot day.  Quarry Lake has the best beach in the Bow Valley and children will happily spend hours splashing around in the lake and playing in the sand.
3. Hike to Grassi Lakes – Grassi Lakes is one of the most popular hikes in the Canmore Kananaskis area.  Take the "More Difficult" trail to enjoy an easy hike that leads you past a beautiful waterfall en route to two emerald coloured lakes.  The trail signed as "easy" follows an old road that would allow families to access the first lake with a Chariot or similar outdoor stroller. Both trails meet up at the first lake from which point you can carry on a short distance to the second lake and popular sport climbing area.  Return hiking distance is 3.5km.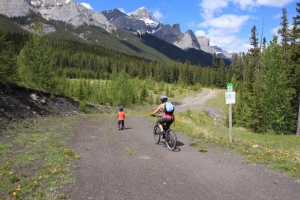 ---
4. Spend the day at the Canmore Nordic Centre – There are no trail fees in effect during the summer so you can spend the whole day exploring over 100kms of trail including everything from technical single-track to wide dirt roads perfect for the novice cyclist.  There is also a paved roller skiing trail that doubles well as a family-friendly bike trail.  Bike rentals are available at the Trail Sports Shop on site. http://www.albertaparks.ca/canmore-nordic-centre/activities-events/summer-activities.aspx
5. Climb Ha Ling Peak – The steep hike up Ha Ling Peak will thrill older children and teens when they top out on the rocky summit overlooking the entire Bow Valley and town of Canmore. Allow 3-4 hours to reach the summit and descend again on a well maintained trail followed by a short scramble to the top.
6. Take a Road Trip into the Smith-Dorrien Valley – Drive past the Canmore Nordic Centre on the Smith-Dorrien/Spray Trail, a scenic gravel road that travels through the Smith-Dorrien Valley and joins up with Highway 40 in Peter Lougheed Provincial Park.  Plan for a full day with some of these great options:
Hike to Chester Lake This family-friendly hike is great for school aged children and one of the most beautiful hikes in the valley.
Bike to Watridge Lake and Karst Spring from the Mt. Shark trailhead. For family-friendly mountain biking, the well maintained Watridge Lake Trail can't be beat!  Park your bikes at the lake and carry on foot for a short hike up to Karst Spring where an impressive waterfall shoots out of a hole in the ground.
Stop in at Mount Engadine Lodge for afternoon tea Tea is served most days through the summer months from 3-5pm.  If you are in the Smith-Dorrien Valley in the afternoon, you don't want to miss this gourmet feast with fresh baked goods and other savoury treats.  And who knows, you might even see a moose or two in the meadow below!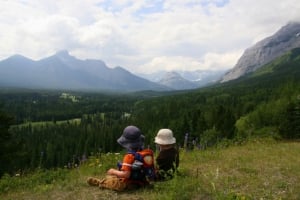 ---
7. Take a Road Trip to Kananaskis Village – Located on Highway 40 in the heart of Kananaskis, the Village is home to great mountain bike trails and paved walking trails in the vicinity of the Delta Kananaskis Lodge.  Stop for some ice-cream and make sure you visit the playground with younger children.  For a great hike, Troll Falls is the winner in this area!
8. Explore the Bow Valley with a Hike through Heart Creek – Located 18km from Canmore along the TransCanada Hwy, The Heart Creek Interpretive Trail is a fun hike that takes you to a hidden waterfall.   It's a great hike for young children at approximately 3km return and if you look up at the canyon walls you will see climbers high above you in this popular sport climbing spot.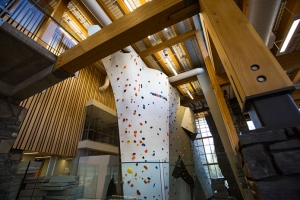 ---
9. Check out Canmore's New Indoor Playground – Just opened this spring, Elevation Place is a great spot to escape the heat on a hot summer day.  It features a national competition class climbing wall, public library and aquatics centre with waterslide and lazy river.
10. Take a trail ride at Cross Zee Ranch – Families with children as young as 7 years old can enjoy horseback riding through the beautiful Canadian Rockies just outside of Canmore at Cross Zee Ranch.  Contact the Ranch directly to inquire about times and reservations.
ABOUT THE AUTHOR
Tanya Koob is mom to a spunky 4 year old boy and calls Calgary Alberta her home when she's not in the mountains playing.  Her family gets out most weekends to go hiking, camping, skiing, biking and paddling. For more family-friendly inspiration in the Canmore Kananaskis area, check out her local blog, Family Adventures in the Canadian Rockies.