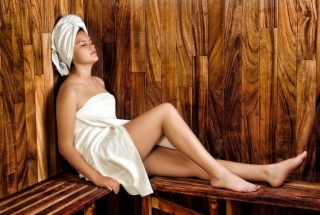 The Rockies Relaxation Guide for Canmore and Kananaskis
Tourism Canmore Kananaskis - September 21, 2023
Your escape to the Canadian Rockies doesn't have to be all grit n' glory. Canmore and Kananaskis are brimming with pampering spas, delectable dining opportunities and relaxing oases – you just have to know where to look. Indulge in a little 'me' time to rejuvenate your mind, body, and soul with some R&R.
Mind
Let your worries drift away
Floating in a sensory deprivation tank is a unique and rejuvenating experience that offers a reprieve from the fast-paced world that can regularly bombard our senses. The private float tanks at Float Canmore create an environment of limited sensory inputs, allowing you to let go of the endless concerns that may overwhelm your mind and recharge by simply existing effortlessly in a state of deep relaxation. With effects lasting hours and often days after a float, floating is the perfect way to unwind in your Rockies retreat.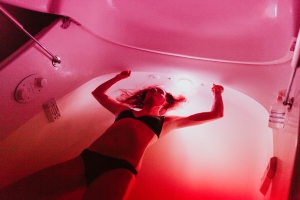 Create your own mindful moments
Nothing says R&R like curling up next to a fireplace in a comfy chair with a hot beverage. Beamer's Coffee Bar is a locally owned company that knows how to serve up delicious coffee. Bring along a good book to their cafe that you can dive right into, and you won't even notice the hours ticking by. If you don't have something you read you can borrow one from the local library at Elevation Place or find one of the many "give one, take one" libraries around town, like the one in front of the Biosphere Institute.
Body
Nourish the body
Food is good for the soul, and there is no shortage of dining options here in Canmore. Indulge in classic comfort foods at Tavern 1883 (the Buffalo Mac and Cheese is a local go-to!) or treat yourself to a fine dining experience at Sauvage with intentionally made, locally sourced dishes. Satisfy whatever cravings you desire and celebrate your love for food while spending quality time with others at the table.
Recover from your adventures
Find relief with a tranquil spa day at Back At It Sports & Wellness. Leave the aches and pains behind you and feel your tension melt away with a massage curated to your body's needs. Ease even further into relaxation by stepping into the hot tub or heated pool back at your accommodations and inhaling the fresh mountain air as you bask in the idyllic mountain vistas surrounding you.
Soul
Bathe in our unfiltered wilderness
Adopted from the historical Japanese practice, forest bathing, or shinrin-yoku, means taking in the forest through our senses. It refers to simply being one with nature; connecting with it through our senses of sight, hearing, taste, smell and touch, bridging the gap between ourselves and the natural world. Lucky for you, Canmore and Kananaskis are known for the staggering peaks, dense forests, and turquoise rivers that make up the rich landscapes of this region. There are endless options for walking and hiking routes in the parks and trails of Kananaskis Country perfect for your wellness excursion.
If you'd like something more curated, Original Path Guiding offers unique experiences throughout Kananaskis Country that focus on supporting a deeper connection with the land. As another option, the guides Forest Fix can help you find a sense of calm and clarity through time in nature.
Connect with the breath
Practicing yoga can help you find inner balance, peace and strength. Yoga's focus on movement connected with the breath will help to enhance mindfulness and awareness of the present while letting go of the past. WildHeart Canmore gives you the space to find movement both in body and breath with yoga classes designed for the gentle adventurer. Take a beat to align with the energy of the mountains.