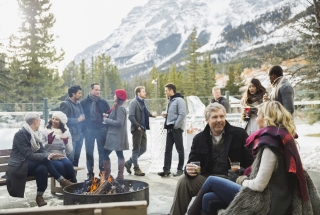 Mindful Meetings & Refreshing Retreats in Canmore & Kananaskis
Alexandra Berard - January 6, 2020
This cozy mountain town's many entrepreneurs take pride in elevated hospitality. Adding to the draw, Canmore, Alberta is situated in the middle of Kananaskis Country – a provincial park chock full of mountain ridges and adventure. With charming properties offering high-end amenities and epic views, Canmore is set up to best accommodate small- and medium-sized groups for meetings and retreats.
Meet Your Meeting Needs
Canmore offers affordable mountain meetings for those looking to wow their guests. When trying to balance cost, amenities, and activities, it's clear that the best value can be found here. Beyond just the logical, something profound happens when you get your attendees out of the hustle and bustle, and bring them together among the bountiful mountain views and relaxed setting of Canmore and Kananaskis. Brains are stimulated, ideas flow, and common ground is easy to find.
We know that when you bring a group together, you're looking to motivate them. Furthermore, they want to leave inspired and refreshed. If you're looking for a polished speaker to engage your group, look no further than the many decorated athletes in the region. Canmore is home to more Olympians per capita than any other place on earth, and the most Everest summiteers aside from Nepal.
A Real Retreat
In Canmore and Kananaskis, you can feel like you've gone off-grid without even losing your WiFi connection. Many lodges in the area provide cozy, comfortable vibes that will ease your crew into relaxation. A couple of honourable mentions include A Bear & Bison Inn and Creekside Villa — both within walking distance of amazing eats and shopping.
If you're looking for a more secluded getaway, try out Mount Engadine Lodge in Kananaskis. The Lodge is approximately 30 minutes from the Canmore townsite. Though it offers internet, you'll be out of cell range. Choose from three different kinds of accommodation: rustic cabins, minimalistic yurts, or glamping tents. The best part? The Lodge is situated on the hillside of a beautiful nature-rich meadow that National Geographic once called the Canadian Serengeti.
It's All Here, and It's Local
In Canmore, we love local and we're pretty certain you'll love what our locals are cooking up. Our culinary scene is vibrant, awarded, and unique. We have many restaurants, distilleries, and breweries that use locally foraged ingredients in their recipes. The chef at The Sensory has crafted a peak-to-plate menu that encompasses such local flavours as pine flour and nettle. RAW Distillery offers a variety of gins that are created using sustainably sourced local juniper berries. And that's just the tip of the iceberg.
During your downtime, we recommend walking through the many shops of Main Street to find art, clothing, spirits, and keepsakes you won't find anywhere else. Many of our downtown shops source their products from local artisans, so make sure to keep room in your suitcase for a little something special.
Activities for One and All
It's no secret that Canmore and Kananaskis are hubs for all kinds of adventure. What you might not know is that many of the region's adventures are guided and group-friendly. Whether you've got a group of thrill-seekers or more gentle adventurers, there's something for everyone. Some honourable mentions include Nordic walking (which doubles well as an active meeting) or a raft trip down the beautiful Bow River. A very memorable team-building experience is the "Learn to Be a Canadian Hockey Player" program. The hockey program was in such high demand that spin-off programs have been created, including "Learn to Be a Canadian Curler" and "Learn to be a Canadian Biathlete". Seeking a little more wilderness? Take a voyageur canoe ride on Barrier Lake with Kananaskis Outfitters.
For those seeking to get in touch with the Western lifestyle, we recommend spending the day with Boundary Ranch. Kick things off with a morning trail ride through the epic views of Kananaskis. Break for a picnic lunch before hitting the trails again. To bookend the experience at the ranch just right, bring your group together for a BBQ and a good old-fashioned barn dance.
If you're ready to relax with your team, look into the many wellness and relaxation options to be found here. Take in a group barre or yoga class with WildHeart. Book in your most dialled-in team member for a tech-free session in a sensory-deprivation tank at Float Canmore. 
Whether you're coming from near or far, our charming destination will make a lasting mark on your team. You'll create memories and relationships that will stand the test of time. The balance of learning, comfort, and adventure found here is unique to any other destination. When you choose to meet in magical Canmore and explore Kananaskis Country with your group, you'll find guidance and cohesion that will illuminate the path to success.
For more information about booking a vibrant meeting in Canmore, please contact Rachel Ludwig at [email protected].