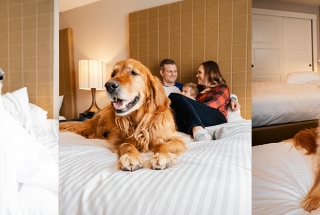 Your Ultimate Guide to planning a Dog-Friendly Getaway in Canmore and Kananaskis
Tourism Canmore Kananaskis - May 4, 2021
Traveling with your canine companion can be a great bonding experience. With majestic mountains, serene lakes, and lush forests, Canmore and Kananaskis offer an abundance of outdoor activities and cozy accommodations tailored for you and your furry friend. Get ready to discover the best spots and must-visit attractions for an unforgettable experience for both you and your four-legged buddy.
Ruffing it in the Rockies
Canmore and Kananaskis offer a wide variety of pet-friendly hotel accommodations, ranging from resorts with luxury suites to bed and breakfasts with cozy rooms.
Check out Copperstone Resort, "Your Pet-Friendly Resort in the Canadian Rockies," which features a Special Puppy Package, including a doggy bag holder/clip and a custom-made fresh baked cookie from a local boutique pet store!
You could also book in at The Malcolm Hotel, which provides a VIP (Very Important Pets) treatment with a dog bed and specially baked local treats. 
Other pet-friendly places to stay include:

Be sure to let your chosen hotel know about your canine travel companion prior to check-in, and request any amenities your dog may require. 
Puppy Playtime
Now that you've found a place to stay, it's time to experience the wide-open wonders of Canmore and Kananaskis. There are tons of places to explore on foot or by paw in the region, with various options suited to different human and canine activity levels.  
For playtime with other pups, there are three dog parks in Canmore open for public use. The Elk Run and Cougar Creek dog parks are fully fenced areas for dogs who love to run unencumbered by a leash. The Quarry Lake dog park requires paid parking and is only partially off-leash to protect your dog from potential wildlife interactions. Always clean up after your dog, and keep in mind that all dogs must be vaccinated and licensed to use the off-leash parks. 
If you'd prefer to keep your dog on a leash while exploring, we recommend a self-guided Mystery Towns Clue Solving Adventure. Best with teams of one to four, Mystery Towns combines the fun of a scavenger hunt with the puzzle-solving challenges of an escape room. Find must-see hidden gems as you and your team solve a series of clues. While the clues may lead to local businesses, the adventure itself is outdoors, making it a perfect adventure for your pup to tag along.
Tails and Trails
If you have an energetic four-legged friend, consider a hike out in beautiful Kananaskis Country. Be sure to do some research on trail difficulty before choosing an objective, and ensure your chosen hike is appropriate for your dog. Some trails are rocky or steep, which can be tough on unprotected paws. 
Remember to bring layers of clothing, extra water, and bear spray. Always check trail conditions prior to heading out and learn how to keep you, your pup, and local wildlife safe on your journey. 
Bear Grylls might make it look easy, but you, too, can learn outdoor survival skills. Well-behaved dogs are invited to join Kananaskis Outfitters Family Survival Hike, a leisurely, guided 5-km hike with stops to analyze animal tracks, discover the wide variety of wild edibles along the trail, and learn what to do when you encounter a wild animal or emergency situation.  
Dip your paws in the water
For calmer dogs who love being on the water more than being in it, consider a tour or rental from Bow Valley Stand Up Paddle Boarding, a dog-friendly business that loves to see your furry friends out on the water. Consider bringing your own life jacket for your dog to ensure their safety out on the glacial-fed rivers and lakes.
You can also enjoy a leisurely family float with Canmore Raft Tours. Led by knowledgeable interpretive guides, learn about the plants, animals, and birds that call Canmore and Kananaskis home while you and your pooch bask in the beauty of the Bow River.

Dog-friendly shopping and dining
Many shops in Canmore embrace canine customers, often leaving water bowls outside. If you'd like to bring your dog shopping with you, Alberta's Own Marketplace showcases local makers, artists, and entrepreneurs, and allows dogs in-store.
Rain or shine, Canmore Mountain Market is outdoors and pet-friendly. Vendors offer delicious, farm-fresh fruit and baked goods, and beautiful artisan wares that you'll be eager to take home with you. Mark your calendar! The market runs Thursdays from the end of May to early October.

Need a rainy day or rest day activity? Paint your own pottery with your furry friend at your side at Crock-a-doodle. Each ready-to-paint piece is professionally glazed and kiln-fired to become durable and functional dishware or souvenirs. Make something for yourself, or paint it for your pooch. That's what we call puppy love. 
After a day of adventure, you'll likely be ready for a good meal. Fido can join you at these dog-friendly outdoor patios and tables for a post-hike snack or brew: