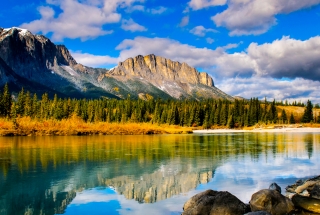 Top 5 Larch Hikes In Canmore Kananaskis
Karen Fennell - September 25, 2019
​Visitors come from all over the world to marvel at the unique and spectacular changing colours of the Larch trees in Canmore Kananaskis.
---
​Larch trees are the only needled tree to shed needles in the fall. They usually change to a golden yellow colour in mid-September, and loose their needles in late October. The trees at higher elevations turn first.
Our travel counsellors have put together their favourite fall larch hikes in the Canmore Kananskis area.
Top 5 Larch Hikes
Mt. Lorette Ponds
This day use area is located on Hwy 40 (Kananaskis Trail) just a few minutes South of Barrier Lake. This great picnic spot is also an ideal location for fishing as the ponds are stocked with rainbow trout. Enjoy a stroll along the paved path around the ponds.
Chester Lake
Located on highway 742 (Spray Lakes Road) This 8 km hike is an idyllic Larch hike. Most of the 300m elevation gain is achieved within the first few kilometers and then the trail opens into beautiful alpine meadows.
Burstall Pass
Located on highway 742. Burstall Pass is a 15 km hike with 470 m elevation gain. The trail goes through forests and willow flats then climbs steeply to alpine meadows.
Rawson Lake
Just past Upper Kananaskis Lake, Rawson is a perfect moderate fall hike. The 7.8km trail ends at a beautiful alpine lake surrounded by mountain peaks and alpine meadows.
Ptarmigan Cirque
Located at Highwood Pass, just past the Kananaskis Lakes. A 3.6km short and steep trail with a 230m elevation. The trail leads to a fragile alpine meadow and a spectacular view of the surrounding mountains and forests of larch trees.