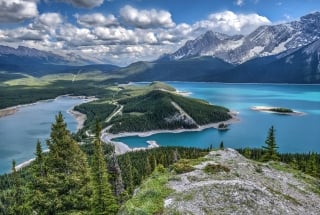 Itinerary: 5 Days of Summer in Canmore and Kananaskis
Tourism Canmore Kananaskis - April 24, 2023
Summer in Canmore and Kananaskis offers boundless opportunities to immerse yourself in our unfiltered wilderness. The mountains await adventurers of all skill levels, whether you're a first-time explorer or a seasoned outdoor enthusiast. Experience the exhilaration and tranquility that only the majestic mountain landscape can provide as you embark on your own astonishing adventure.
---
Day 1
Embrace the Rockies with ease
The Lamphouse Hotel offers an unbeatable location in the middle of all the action. Whether you're looking for a romantic getaway, a family vacation, or a base for adventuring, The Lamphouse has everything you need to experience the beauty and charm of the Rocky Mountains while enjoying easy access to the buzz of Main Street.
Electrify your expedition
There are so many sights to see and Pedego e-bikes are the best way to stretch your legs and get a taste of what Canmore has to offer. We recommend a self-guided journey up the pathways to Three Sisters Mountain Village – or, if you're feeling extra adventurous, try cycling along the Legacy Trail all the way from Canmore to Banff and back – a guaranteed smooth ride with the e-assist feature on your trusty bike.
 Savour bold flavour at BLAKE Brewhouse & Distillery
Only a short walk from downtown Canmore, BLAKE Brewhouse & Distillery will give you a dining experience to remember. Set in a converted garage, this industrial-style outpost features explorative twists on classic dishes. Their duck wings are a must-try! Top off your experience with a cocktail made from BLAKE's made-in-house vodka.
Day 2
Kickstart your morning with alpenglow and espresso
Embrace the early mornings in Canmore – rise with the sun to witness the elusive pink alpenglow that graces the mountain peaks. Let Eclipse Coffee Roasters invigorate your senses with a perfectly crafted caffeinated beverage to set the stage for a day brimming with adventure.
Seek out epic scenery
Once you're energized and ready to roll, take a scenic drive out to the Blackshale Suspension Bridge for some epic views of Kananaskis Country. For the best experience, book the suspension bridge tour with Kananaskis Outfitters. The guides will start by leading you through the enchanting Kananaskis backcountry while passing along teachings of the local flora and fauna. The tour wraps up with a lunchtime charcuterie board beside the stunning Kananaskis Lakes. Don't worry about the drive – your guide will transport you to and from Kananaskis Village so you can have an unforgettable experience.
Ride into the sunset (with a fireside finale)
For the final activity of the day, saddle up for the Sunset Saddlebag Tour with Cowley's Rafter Six Ranch through the foothills of Kananaskis. As the day draws to a close, you will be treated to a breathtaking sunset over the mountains, providing a backdrop for some unforgettable photos. The tour ends with a mouthwatering BBQ dinner around a campfire where you can swap stories of the day's adventures. With the sun dipping below the horizon, you will be sure to leave the ranch with memories that last a lifetime.
Day 3
Ride the ripples of adventure
Kick off your morning with the delightful Townie Tour with Canmore Raft Tours. The guides will paddle you down the majestic Bow River, taking you through the forested banks of our mountainy backyard. Sit back and enjoy the scenic vistas while learning about the plants and animals that are home to the Bow Valley. Keep your camera ready – there are ample opportunities to catch a glimpse or two of wildlife along your journey.
Lunch at Communitea Café
After your morning raft adventure, head to Communitea Café for a delicious healthy lunch. The simple, hearty dishes are made using local and organic ingredients that will leave your taste buds wanting more. With a welcoming ambience and quirky décor, it's easy to see why Communitea Café is a popular destination for locals and visitors alike.
Embrace the downtown energy
Once you're feeling refueled, continue your exploration by joining the hustle and bustle of downtown Canmore. Main Street is closed to vehicle traffic from May to October, bringing to life a vibrant energy to downtown. The streets are lined with quaint shops where you will find everything from locally sourced souvenirs at Alberta's Own Market, hand-selected home goods at Stonewaters, and eye-catching artwork at one of the many local galleries.
If you're in town on a Thursday, the Mountain Made Market is a must-do. Located at Elevation Place, this market runs once a week from June to September and showcases the creativity of local artisans and crafters. Peruse the stalls filled with freshly grown produce, locally made treats, and an array of handmade treasures – you're sure to find something special to remember your trip to Canmore.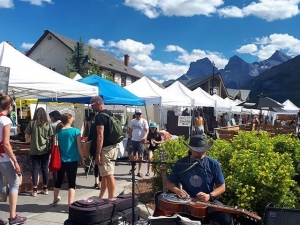 Bask in Quarry Lake's scenic splendor
Later in the afternoon, swing by Bow Valley SUP to pick up some stand-up paddleboards and head to Quarry Lake, a local hotspot for relaxation and recreation. Spend the long summer evening gliding across the tranquil waters and soaking in the stunning views as you paddle around the lake.
Day 4
Fuel your adventure
Find nourishment in the healthy and hearty dishes at Harvest Café. Tucked away in downtown Canmore, this secluded diner prepares fresh eats and mouthwatering treats for your enjoyment – not to mention the best cinnamon buns in the Bow Valley! This is the ultimate place to pick up some sustenance before venturing off into the wilderness.
Discover Kananaskis hiking your way
It's time to get out and explore the great outdoors! Kananaskis Country is made up of nine provincial parks, each one brimming with stunning peaks and some of the best hiking on the planet. We have a few recommendations for epic summer hikes for every skill level, and we encourage you to do your research to find a trail that suits your preferences and abilities.
If you're looking for a guided hiking experience, there are plenty of options for you. For something more low-key, explore Canmore's local trails in the Discover the Mountains tour with Get Outside and learn about our wild terrain and rich history. If you have a specific peak you're looking to check off your list and want some extra assistance getting to the top, Paramount Guides will help you achieve the experience of a lifetime with their private hiking guides. For the ultimate VIP experience, Canadian Rockies Experience will pick you up directly from your accommodation with locally baked pastries and hot beverages waiting for you. Your private tour guide will take you through the scenic trails of Kananaskis Country and top off your experience with lakeside lunches and charcuterie boards.
Burgers, brews, and bear-y good times
Once you head back to Canmore, treat yourself to a well-deserved burger and brew from The Grizzly Paw Pub. This charismatic establishment is a favourite amongst visitors and locals alike, and the menu items will tempt your taste buds. However, the real star of the show is the wide selection of handcrafted, small-batch beer from their local microbrewery. There's always something new and exciting to try!
Day 5
Elevate your game
You can't come to Canmore and Kananaskis without visiting one of our five world-class golf courses. A golfer's paradise, Silvertip Resort in Canmore is the perfect spot to connect with nature as you tee off with the Rocky Mountains as your backdrop.  Try not to let the breathtaking views of the mountain landscapes distract you!
From tee time to fine dining
After working up an appetite on the greens, head to Rustica Steakhouse for a scrumptious lunch. Set within the Silvertip Resort, Rustica boasts a warm ambiance, exceptional service, and mouthwatering dishes. Satisfy your hunger with a selection of fine steaks, seafood, and an extensive wine list – all while taking in the magnificent mountain vistas.