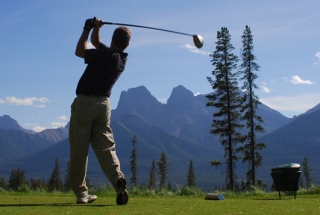 Enjoy Western Canada's Best Golf in Canmore and Kananaskis
Golfing
Sports and Recreation
Spring, Summer & Fall
It's time to experience the world-class golf courses available in Canmore and Kananaskis.
Situated less than an hour from Calgary, in the heart of the Canadian Rockies, you'll find courses with unrivaled views that challenge and excite you.
If you're new to golf in the Canmore Kananaskis area or just want to try a fresh challenge, here are five of our premier courses that you should take the time to try for yourself.
Brewster's Kananaskis Ranch
The Brewster's Kananaskis Ranch golf course has 18 holes of mountain golf at its best. Nestled between the base of a pine-covered mountain and a 90-year-old guest ranch, the course follows a winding riverbank, and features a number of challenging greens and approaches.
A great destination for anyone who craves the combination of rugged Western decor with high-class amenities, Kananaskis Ranch is a course most golfers would like to play through several times. And, with online tee time reservations, booking your reservation is a snap.
Read more about Brewster's Kananaskis Ranch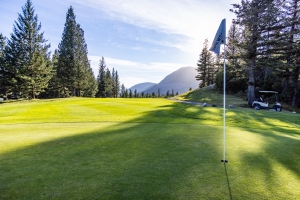 Silvertip Golf Resort
Silvertip Resort, located on the sunny side of Mount Lady MacDonald, is a golfing gem perched on the edge of an open wilderness area. That means fresh air, stunning mountain views, and a relaxing time on the links all come standard.
The course itself features 600 feet of elevation change with a length that varies greatly depending on the chosen tees. That means it's perfect for any schedule or skill level, from the professional who wants to test his or her skills to the recreational golfer who just wants to take on a unique course.
Read more about Silvertip Golf Resort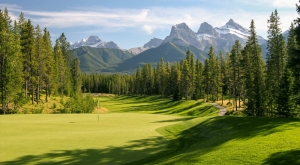 Stewart Creek Golf & Country Club
If you love mountain golfing, unbelievable scenery, and sporting history, Stewart Creek should be at the top of your tee time wish list. Designed by a legendary Canadian golf architect and featuring stunning views of four different mountain ranges, it has everything you need for a "once-in-a-lifetime" day spent on some links.
The sweeping views, challenging course, and striking architecture found throughout this sprawling property don't just make it a dream destination for golfers to play, but also a joy to visit again and again.
Read more about Stewart Creek Golf & Country Club
Canmore Curling and Golf Club
A local favourite that combines fun, friendliness, and great golfing, the Canmore Curling and Golf Club is known for 18 holes of pure joy. Like the other courses, it features panoramic alpine scenery, just as you would expect from a club built and maintained entirely by the local community.
It doesn't matter if you have hours or days, or what your golfing handicap is – spend a bit of time on this course, and you'll be itching to return again soon.
Read more about Canmore Curling and Golf Club
Kananaskis Country Golf Course
Discover awe-inspiring views – and renowned golf layouts to match. Here, immaculate lush fairways, bent grass greens, over 120 silica sand bunkers, and six sets of tee boxes are framed by glacier-fed creeks and ponds, the cascading Kananaskis River and glimpses of majestic wildlife. This is a place where we invite you to stay a while – where it just feels right.
Read more about Kananaskis Country Golf Course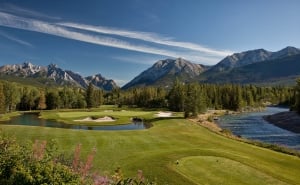 Your Golf Adventure Starts in Kananaskis Country!
The Canmore Kananaskis region isn't just great for golfing, but for family getaways, romantic weekends, and even business events. In between your time on the links, you can enjoy some of the best food, lodging, and entertainment that Canada has to offer.
Check out our premier courses and book a tee time today – you won't believe how easy it is to book the golf trip of your lifetime!