5 Breathtaking Hikes you NEED to do This Summer in Kananaskis
Tourism Canmore Kananaskis - May 16, 2022
Looking for places to hike this summer? We've got you covered. Make sure you add these five spectacular trails to your list!
When it comes to hiking, the Canmore Kananaskis region is a true mecca. With hundreds of hiking trails to choose from (literally), your biggest decision will be which ones to knock off your bucket list first. With some of the most breathtaking scenery on the planet, and hikes that range from family-friendly outings to peak-bagging scrambles, here are five hikes in Canmore and Kananaskis you will want to add to the top of your list.
Easy
#1 Troll Falls
Troll Falls is one of the top family-friendly or beginner hikes in the Canmore Kananaskis region. As you wander through the forest, you will be transfixed by not one, but two cascading waterfalls. Along your journey, you will come across signs with information about the wildlife and flora in the area. Keep an eye out for some actual trolls as you cross the many footbridges!
Moderate
#2 Rawson Lake
Rawson starts out with a gorgeous walk alongside Upper Kananaskis Lake. The trail splits left where you'll start to see some elevation gain. The rest of the trail is a steady incline through an emerald green forest for about 4 kilometres until you reach a clearing where you will be rewarded with views of crystal blue waters. Make sure to bring bear spray and check for trail closures before venturing out on this trail – lots of wildlife have been known to frequent this area. Plan to head to the trail early as this is a fairly popular venue and gets very busy, particularly in the summer.
If you're looking to elevate your experience, book the Kananaskis Alpine Lakes Guided Hike with Canadian Rockies Experience. Transportation, food and drinks are taken care of by your tour guide, leaving you to enjoy the breathtaking scenery of the mountain amphitheatre.
#3 Lillian Lake
Lillian Lake trail is a hidden gem that doesn't get the attention it deserves. This 7 kilometre trail will take you alongside Galatea Creek and across a total of eight bridges – lots of chances for great photo ops.
About halfway through, the trail starts to get a bit more challenging. The trail will snake across some small ridges, but the views of the valley won't disappoint. The trail will start to flatten out as you approach the top for a lakeside lunch.
If you don't feel like you got enough of a hike in, you can continue up the trail to Lower and Upper Lake Galatea for even more spectacular views – or you can head back down and enjoy a well-deserved afternoon of R&R.
#4 West Wind Pass
West Wind Pass is an excellent hike that gives you spectacular views of both Spray Lakes and the Bow Valley behind the Three Sisters. Roughly 5 kilometres, the trail views will only continue to get better as you climb upwards through the trees and narrow pathways. About halfway up you'll catch a glimpse of the iconic Windtower. The footing near the top can be a bit tricky if the rock is loose – poles might come in handy.
Hold onto your hats! The trail gets particularly windy at the top, so bring some layers that will protect you from a gusty day.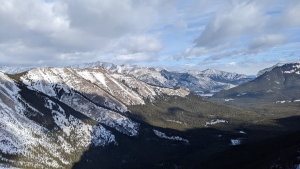 Challenging
#5 Little Lougheed
Little Lougheed starts on the side of Highway 742 with a winding trail through the forest. Make sure you look up the trail directions beforehand – the trail splits early on and if you're not careful, you could end up heading in the wrong direction. The trail switches to much steeper terrain the remainder of the way up. Some might describe the hike as gruelling, but you will be pleasantly distracted from your efforts by the vast mountain vistas and the clear waters of the Kananaskis Lakes as you make your way up, and up, and up some more.
The trail continues on a steep incline and turns into a true scramble at the top. The views from here are unlike any other – a truly rewarding journey!
How to prepare for your hike
Read up
Before you head out on your hike, it's important to check trail information for closures, advisories, and trail conditions. Be prepared to change your plans if something is closed unexpectedly! Luckily, there are dozens (if not hundreds) of other options for you to have a wonderful day outside.
Gear up
Let's keep it simple. Here is a brief list of absolutely essential gear:
Proper footwear
Bear spray
Water (1L minimum)
Snacks or lunch
Jacket or extra layer
Depending on the season, the terrain difficulty, and your skill level, you may also need micro-spikes, poles, sunscreen, and other gear to help your adventures run smoothly. If you're visiting from out of town or just looking to pick up some new gear, check out Kananaskis Outfitters or GearUp for all your outdoor adventure needs.
Buy your pass
As of June 2021, all vehicles stopping in the parks and public lands of Kananaskis Country and the Bow Valley corridor are required to purchase a Kananaskis Conservation pass. Passes can be purchased online and can cover up to two vehicles.