Know Before You Go - Arrive Prepared
Welcome back to Canmore and Kananaskis. We are happy to see you again!
As we are all aware, travel is different this year. We ask that as you arrive and enjoy our community that you will take the same precautions you are at home, here. We encourage visitors to be safe and respect our beautiful area as if it was your own.
Take a look at what you can expect while visiting us.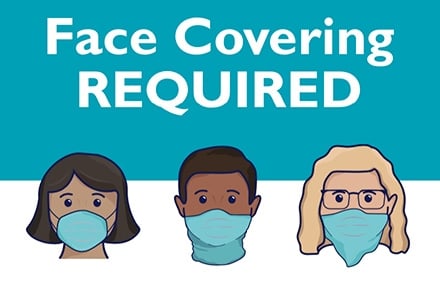 Masks are now mandatory in all indoor public spaces in Canmore
It is now mandatory to put on a mask in all public indoor spaces within the Town of Canmore.
The Mandatory Mask Bylaw compels residents, visitors, and businesses to wear a mask or face covering in all public indoor spaces such as grocery stores, retail businesses, churches.
Public transit, such as Roam Transit buses, taxis and shuttles also require a mask or face covering.
More Details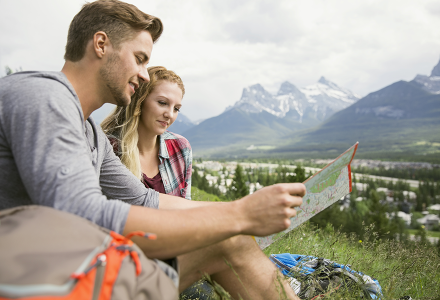 Be Prepared for your Visit
Adventure safely and responsibly. Respect our area, trails, businesses and community.

Please come prepared for your visit with us. We want you to enjoy your time here and the best way to do that is if you have a plan and know what to expect while you are here.
We have some tips for you on how to safely and responsibly enjoy Canmore Kananaskis!
How to enjoy Canmore and Kananaskis during COVID-19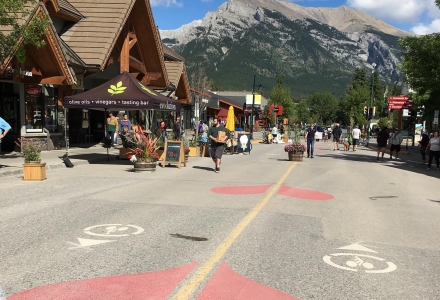 Downtown Canmore's Shared Pedestrian and Cyclist Zone
Welcome to a New Main Street!
We have created a pedestrian and cycling-only Main Street (between 6 Ave - 8 Ave) to be safe and inviting for residents, employees, store owners, and visitors.
Cyclists are allowed to ride on the street and should walk their bikes on the sidewalk.
Practice physical distancing, and give others space.
More Details