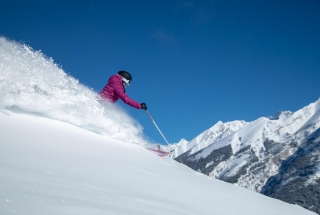 Your Guide to Après Ski in Canmore Kananaskis
Skiing and Snowboarding
Winter
Tourism Canmore Kananaskis - March 5, 2020
Ahh, ski season in Canmore Kananaskis—it's something we look forward to all year. There's nothing quite like getting out on the snowy slopes and burning off some cabin-fever energy. After your epic day out, there are so many ways around here to keep the good vibes rolling! Keep reading to discover the ideal après ski experience for you in Canmore Kananaskis.
Walk it Out
After a day of active adventure, it can be good to schedule a wind-down activity afterwards so your muscles and joints can recover properly so you'll live to tackle the slopes another day. Designed to mimic skiing, Nordic walking uses poles to transform a regular walk into a full-body workout that engages your core and keeps you moving so you don't seize up once you sit down. Plus, a Nordic walk with Active by Nature takes you along some of the region's most stunningly scenic trails.
Go for Yoga
This one can be "Avant ski" as well as après ski, but there's never a bad time for yoga! At WildHeart Canmore, Michelle's Snow Flow Yoga class is perfect for elevating your time on the slopes with a mindful, proactive approach. With the perfect combo of stretching and strengthening, this uniquely tailored class will help prevent injury, build strength, improve balance, and energize your core. Great as a warm-up or wind-down, Snow Flow Yoga is perfect for when you want to slow things down before or after your ski session.
Relax with Retail Therapy
Make your way to Main Street in downtown Canmore and set out on a stroll that lets you indulge in a little therapy of the retail variety. Main Street's awesome shops are far from tourist traps—they celebrate our authentic mountain lifestyle and showcase unique products inspired by our amazing surroundings. At Alberta's Own Marketplace, their fierce love of all things local gives you the opportunity to shop the region's artisans, agriculturalists, and everyone in between all in one place. Project A is a chic atelier space that puts emerging artists and designers front and center. For when you want to trade your snow gear for something more fashion-forward, Liberty Clothing has you covered with all those fresh fits.
Get Your Art On
Give your body a break and flex your creative muscles at artsPlace. Spend some time in the free Hub Gallery, settle in for a movie at the black box theatre, or if you want to get really hands on, there are a ton of cool programs to choose from. From leatherworking, to stained glass, to creative writing, to improv, there's a class for all kinds of interests, plus fun stuff for kids too.
Hit the Town
Canmore comes alive when the sun goes down. Get a real taste of true mountain spirit at Wild Life Distillery, where two local guys have crafted gin and vodka using 100% local grains and wild foraged ingredients. Stop in for their 3 p.m. tour and tasting, then head to hang with locals and fellow ski enthusiasts at The Iron Goat Pub and Grill, next to the Bear & Bison Inn. With massive outdoor patios (that stay warm with the help of some big heaters) and jaw-dropping views of the Three Sisters, there's no better place to sip a few drinks après ski.
Stay in Snowy Style
If you haven't decided on a place to stay during your ski session in Canmore Kananaskis, here are some suggestions that put après ski activities right at your doorstep. For tons of charm and a prime downtown location, head to the Paintbox Lodge. For a convenient hotel that's right downtown but feels tucked away in the wilderness, The Malcolm Hotel wows with its year-round heated pools and hot tub. And for a great combination of budget-friendly and beautiful views, the boutique Lamphouse Hotel is a must-stay for the modern mountain adventurer.
But we're certainly not "ski-liteist". All of these awesome experiences pair perfectly with a day spent snowboarding, snow tubing, fat biking, and more! Get even more trip inspiration here. See you on the slopes!