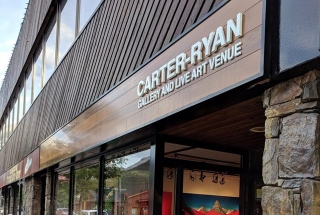 Spotlight: Cree Artist Jason Carter
Arts and Culture
Culture and Traditional Activities
Museums
Blog post courtesy of Indigenous Tourism Alberta
Grandparents inspire contemporary Cree artist to carry family traditions through his artwork
Stepping into the Carter-Ryan Galleries in Banff and Canmore may seem like a long way from traditional Indigenous art that goes into creating a pair of moccasins. The walls are hung with bright, vibrant paintings with bold colours and strong lines. The sculptures are sleek and modern.
But Jason Carter, the Cree artist behind this work, says he sees himself working directly in the tradition of his grandparents.
"The two of them really made their living as artisans," said Carter of his grandparents, who created moccasins, jackets and beadwork. "My grandfather was also a woodworker and he built cabins, teepees, and sleds with his hands."
As a painter and carver, Carter honours his heritage by expressing gratitude to his grandparents for forging the pathway he now walks as an artist.
"My grandparents have passed on now, but it just means a lot to me to be able to share that history," he says. "I hope they're proud of me, wherever they are."
Carter says his grandparents' connection to the land allows him to create artwork in a meaningful way that builds on that connection. Although his artwork may appear to be in a style much different than his grandparents worked in, the connection to land that his grandparents displayed in their art is impossible to miss in Carter's work. Much of his work is built around the land around where he now lives — the soaring peaks and craggy nooks of the Canadian Rockies of Canmore, Kananskis and Banff National Park in Alberta.
And Carter also gets to share his work internationally. With galleries in both Canmore and Banff, plus public art displayed throughout Alberta, including prominent works in both the Calgary and Edmonton international airports, Carter says it's a pleasure to share his culture with an international audience.
"Indigenous tourism is very important to connect everybody, to show that we're all in this together at the end of the day," he says. "We're all really one people."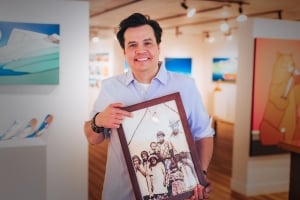 Jason Carter of Carter-Ryan Gallery with grandparents Christine Laboucan and Narcisse