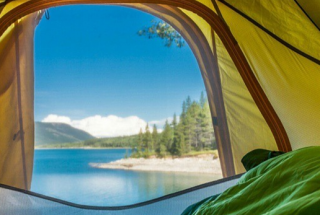 Guide To Kananaskis Backcountry Camping
Karen Fennell - June 1, 2016
A great way to disconnect and explore the road less travelled, whether by foot, bike or boat, backcountry camping in Kananaskis is an incredible experience.
---
Let's trek outside of our comfort zones away from vehicles, televisions, and cell phones. It is a wonderful thing to disconnect and to reconnect with nature and go off the beaten-path, to slow the pace of life down and get back to the basics.
The first step in going backcountry camping is of course picking where you wish to go. It's important to think of the whole group and what they wish to get out of the adventure. Will this be a hiking, biking or paddling trip? What is the group fitness level? Are you looking for a nice relaxing trip to campout near a lake or an active adventure changing campsites every day?
In Kananaskis there are many different options when going into the backcountry. There are easy first time trips where you can be at your campsite within 2-hours, or long treks that will take you into some of the most remote areas of the Kananaskis wilderness.
One of the most important things in backcountry camping is weight (and space) for your gear. When front country camping you can literally just throw everything in your vehicle and go to the site. When backcountry camping you are carrying all your gear with you. It is important to really plan in advance and think about what is really needed to bring with you. Here's a great checklist to get you started.
It's also essential to leave no trace when camping in Kananaskis including carrying out all of your garbage and to storing your food in bear lockers. You can read more about how to minimize your impact when in the backcountry.
EASY TO GET TO CAMPGROUNDS:
Point
Point is one of the larger backcountry campgrounds (approx. 20 sites) situated beautifully on the shore of Upper Kananaskis Lake. It's a short 3km hike from the Interlakes parking lot and one of the few places you can backcountry camp year-round. Point is also accessible by boat for families or those with limited mobility.
Elbow Lake
Drive along the Highwood Pass (Canada's highest paved road) to the trailhead for Elbow Lake. It's a short 3km hike with only 150 meters of elevation gain to the campground nestled along a quiet and serene lake. The campground is also accessible by mountain bike.
Quiate Valley
Quaite Valley Backcountry is open year-round and close to Canmore in Bow Valley Provincial Park. It's accessed from the Heart Creek parking lot and a steep ascent 4km to the campground.
Jewell Bay
Jewell Bay has some major advantages that separate it from the rest. It's only 5km away hiking along the shore of Barrier Lake with incredible views. There is a shortcut, you can cut down your time by paddling 1.5km across the lake on canoe or kayak! Plus it's a small campground with only 7 sites, guaranteeing a quiet and peaceful experience.
HARDER TO GET TO CAMPGROUNDS
If you're feeling more ambitious, there are many 2, 3 and 4-day treks you can explore!
Start at Forks Campsite (about 7km in) near the Upper and Lower Kananaskis Lakes as a jumping off-point to Three Isle Lake Campsite and Turbine Canyon.
You can also explore the Ribbon Falls and Ribbon Lakes campgrounds which start from Ribbon Creek parking area on Highway 40 in Kananaskis or by Buller Pass on Spray Lakes Road.
BACKCOUNTRY HUTS
If lugging around your tent doesn't sound like your idea of a good time, experience the comforts of a roof over your head with the pleasure of true wilderness by spending a night or weekend at a backcountry hut.
The Alpine Club of Canada's Elk Lakes Cabin is accessed from Peter Lougheed Provincial Park and takes just a few hours to get to by hiking, bicycling or skiing in the winter.