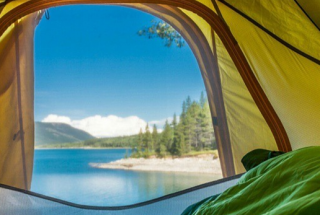 Your Guide to Backcountry Camping in Kananaskis Country
Tourism Canmore Kananaskis - June 30, 2023
As the summer sun shines down on the valleys of Kananaskis Country, the call of the wilderness is too compelling to ignore. Spectacular vistas, breathtaking trails, and tranquil campsites await those daring enough to venture off the beaten path. Whether you're a seasoned backpacker or planning your first backcountry trip, Kananaskis Country has an array of campsites that can suit every preference.
Discover our top backcountry sites
*Please note, the distances mentioned below are approximate and measured one-way from the trailhead to the campsite.
Elbow Lake Backcountry Campground
With a short 1.3-km trail starting at the Elbow Pass Day Use Area, this campsite is a great introduction to backcountry camping. Overlooking the stunning Elbow Lake, the campsite also serves as a base for exploring nearby trails.
Point Campground on Upper Kananaskis Lake
A favourite amongst beginner backpackers, this campground is a gentle 3.4-m hike from the trailhead. Enjoy the mesmerizing views of the Upper Kananaskis Lake, particularly at sunrise and sunset.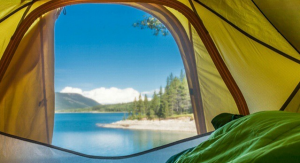 Quaite Valley Campground
Starting at the Heart Creek Day Use Area, this family-friendly campground is great for those seeking a more moderate hike. The 4.7-km trail takes you through lush forests, with a chance to spot local wildlife.
Jewell Bay Backcountry Campground
Accessible via a 4-km trail that meanders along Barrier Lake, Jewell Bay offers serene campsites in close proximity to the lakeshore, perfect for cooling off on a hot day.
Three Isle Lake Campground
Nestled near a pristine alpine lake, this campsite is an exceptional choice for those looking to fish or enjoy tranquility by the water. Accessible from the North Interlakes Day Use area, the 10.3 km trail may be challenging, but the scenery is utterly rewarding.
Ribbon Lake Backcountry Campground
Perched high above Ribbon Creek, this campsite offers a breathtaking panorama of the surrounding peaks. A 10.8-km trail has a steep, challenging chain section leading to this hidden gem, ideal for those seeking solitude and splendid views.
Turbine Canyon Campground
For those seeking a challenging hike, the 15.1-km trail to Turbine Canyon is a worthy conquest. This campsite offers stunning views of the valley and is close to the impressive Turbine Canyon waterfall.
Booking Your Adventure
To preserve the delicate balance of our beautiful environment and ensure a peaceful experience for all campers, advance bookings are necessary. Here's a quick guide on how to book your campsites:
1. Visit Alberta Parks' online reservation site.
2. Select 'Backcountry Camping' as the type of campsite you wish to book.
3. Use the interactive map or the search bar to find and select your desired campsite.
4. Choose your arrival and departure dates, and follow the instructions to complete your booking.
Please note that the backcountry camping season typically runs from June 1st to September 30th, and reservations open on February 1st each year. It's advisable to book as early as possible as the campsites fill up quickly.
Venture Deeper with Guided Expeditions
Navigating the backcountry can be an overwhelming task for those new to wilderness travel. If you'd rather leave the planning and route-finding to the experts while you soak in the tranquility of the wilderness, consider a guided backcountry camping expedition.
Yamnuska Mountain Adventures
Known for their expertise in mountain skills and backcountry excursions, Yamnuska Mountain Adventures offers family-friendly, introductory, moderate, and challenging multi-day backpacking trips into Kananaskis Country's most stunning areas. With expert guidance, high-quality gear, and a passion for nature, they'll lead you through unforgettable landscapes, helping you confidently navigate the wilderness.
Get Outside
Specializing in fostering a love for the outdoors, Get Outside provides guided backcountry trips tailored to various skill levels. Their private multi-day hiking adventures allow you to customize your trip into the heart of Kananaskis Country. Learn wilderness survival skills, navigation, and Leave No Trace principles while immersing yourself in the stunning Alberta backcountry.
Preparing for Your Backcountry Trip
Before embarking on your adventure, remember the key to a successful backcountry trip is thorough preparation. Here are a few tips to get you started:
1. Pack Essentials: Know how to pack your backpack and what to pack it with to prepare for your trip. You can pick up any gear you need at GearUp Mountain Sports, Sports Experts, Sports Garage, or Kananaskis Outfitters. Don't forget bear spray – you're in grizzly country, after all.
2. Learn everything you can about wildlife safety – how you can keep yourself and our local wildlife safe during your trip.
3. Check Weather: The weather in the Rockies can change rapidly, so check the forecast and prepare for all conditions.
4. Be prepared: As with any outdoor excursion, it's important to be prepared for the unexpected. Whether you're a seasoned outdoors enthusiast or a first-time visitor, here are some tips on how to be prepared for your next adventure in the Rocky Mountains.
5. Inform Someone: Always let someone know your plans and when you expect to return.
6. Fitness Level: Ensure that your fitness level matches the difficulty of the trail you plan to hike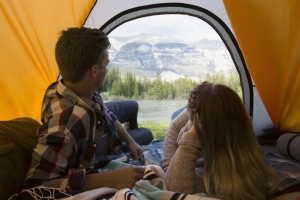 Sign the Pledge to the Peaks
During your outdoor expedition, it's important to remember to respect the lands, animals, and people of Canmore and Kananaskis. The Pledge to the Peaks is a heartfelt commitment to protecting the awe-inspiring nature of Kananaskis Country, especially during backcountry trips. Sign the Pledge to the Peaks and join us in keeping the backcountry wild and wonderful for generations to come.