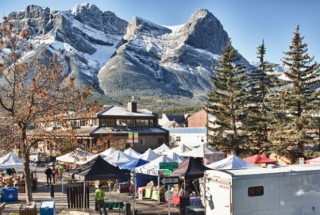 Canmore Mountain Market – The Mountain Spirit Made Tangible
Karen Fennell - May 19, 2016
Progressing a twenty-year-old tradition, the Canmore Mountain Market returns this summer to offer the peak market experience!
---
The Canmore Mountain Market promises the highest quality, locally-sourced vendors, providing the freshest fruits, veggies, baked goods, venison, and poultry in the Valley! Crafters, creators, and makers of all varieties round out the scene. Boasting unique offerings of art, ceramics, and all manner of mountain-inspired products. The sound of music dances in the air along with the smells of baked goods and produce as gifted buskers lend their talents to the mountain atmosphere.
Providing you with healthy options and handmade delights that benefit the local economy. What could be better!

---
Connect with Canmore's Community
Wouldn't you rather stroll amidst outdoor stalls of fresh produce and handmade art in the middle of the Rocky Mountains on a sunny day than roll your cart around a grocery store? Yeah, we thought so!
The Canmore Mountain Market is a community hub—a place to meet up with your friends, bring your children, or just get a taste of small-town mountain life in the midst of our ever busy lives.
Located in the Canmore Civic Center Plaza, within the heart of town, the Canmore Mountain Market runs every Thursday 10am – 6pm, May 26th to October 6th.
Demonstrating true mountain resilience, the Market runs rain or shine – and everything in between! An ever popular local event, all patrons of the Canmore Mountain Market will be treated to a truly community-centric piece of Rocky Mountain culture.
Something for everyone at the Canmore Mountain Market
Taste: Delicious hearty lunch options like burgers, crepes, sandwiches and amazing foods to take home like jelly, beef jerky, fudge and toffee.
Smell: Enjoy the spicy smell of curry and samosa's, locally-roasted coffee and fresh baked bread.
See: Beautiful mountain art including glass jewellery, wildlife photography and hand-drawn postcards.
Touch: Soft fabrics like warm winter knitwear, upcycled textiles and locally-designed tote bags.
Hear: The buzz of vendors, visitors and old friends chatting about interesting new products, catching up after a long winter, and the soft sounds of live music.
The Canmore Mountain Market is more than something to do while you are visiting Canmore, it is the reason to come!