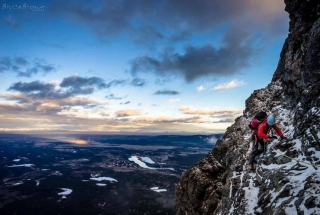 Multi Pitch Climbing In Canmore Kananaskis
Karen Fennell - June 3, 2016
The Bow Valley has no shortage of climbing, and its intricate geology and stunning views make it a world-class area to get your feet of the ground and scale some incredible rock-faces.
---
With a plethora of crags and a large variety of peaks, Canmore and Kananaskis have a great variety for all abilities. If you've tried indoor climbing at Elevation Place and are ready to test your skills in the outdoors!
Here are our Top 3 locations:
East End of Rundle (EEOR)
The East End of Rundle is located 15 minutes from downtown Canmore. The cliffs here offer excellent sport and mixed multi pitch routes alike. Due to the quality of climbing, this popular spot must be on your short list. The south side of the face offers easy walk-off options down the hiking trail while Kanga Crag offers shorter moderate climbs on the left side.
Grassi Lakes is accessed from the same parking lot at Whiteman's Gap, allowing climbers to warm up or cool down with unique pocketed limestone routes.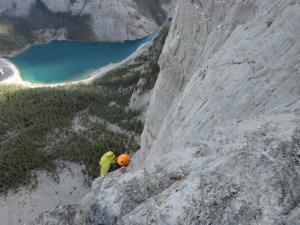 Echo Canyon
Nestled in Grotto Mountain, Echo Canyon is a great venue for stouter sport multi pitch routes. The canyon is a short drive from Canmore and offers shaded climbs to escape the summer heat, as well as climbs that receive sun for most of the day for the chillier days.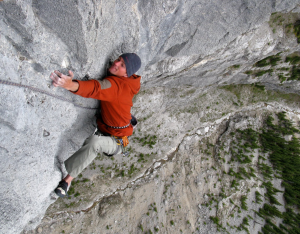 Mount Yamnuska
A prized gem in the area, Mount Yamnuska offers great sport and trad climbing for all abilities. This is an excellent area to hone your multipitching skills, yet has no shortage of challenging climbs that will keep you coming back for more.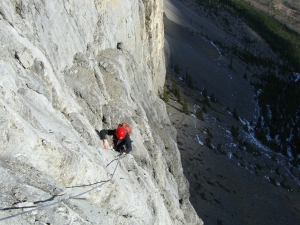 The amount of climbing in the Bow Valley is seemingly endless and these are great places to start. To talk to local climbing experts or to get some new gear, stop into Valhalla Pure Outfitters located on Main Street.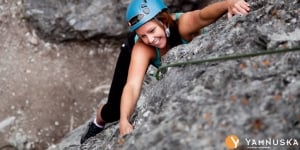 Climbing can be an intense activity and it's always great to have a guide. Consider booking an 'Intro to Rock Climbing' Course with Yamnuska Mountain Adventures or delve into a multi-day course with Canadian Wilderness School & Expeditions.
Happy Climbing!
---
*Written by: Brodie Mclaughlin at Canmore Visitor Information Centre
*Featured photo by: Bryce Brown Images 

---