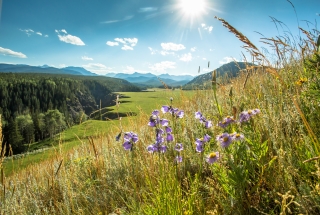 Chef Tracy Little Leads the Foraging Movement in the Rockies
The next phase of Canadian dining is here. With words like "wild," "local," and "foraged" popping up on menus across Canada, people are more discerning than ever about what their food is made of and where it comes from. Enter the foraging food movement. Its leader in the Canadian Rockies is right here in Canmore: Chef Tracy Little of Sauvage. 
Growing up in northern Alberta near Fort McMurray, Little learned the art of foraging as a child, exploring the land with both her father and grandfather. "[My dad] was a forester and it was his first love," she recalls. "He would forage and hunt with my grandpa and they would take me with them."
Little cut her teeth cooking professionally in Ontario for ten years before taking a job in a remote fishing lodge, 800 kilometres from the nearest town. Her generational foraging knowledge came with her, and she used the opportunity to apply the skills her father taught her to fine dining. 
"When I worked at the fishing lodge, I realised that these ingredients grew everywhere," she says. A coworker from Canmore told her how the Rockies needed people with her "innovative talent," and in 2020, Sauvage was born. 
"I opened it, crossing my fingers," says Little. "I thought it would be amazing to have an elevated dining experience that connects you to the place." 
A More Sustainable Menu
Part of the appeal of the foraging movement is how low-impact it can be. Food is coming from within the province, meaning a lower carbon footprint due to transportation—but transport is just the beginning. 
"It's super important because when you're talking about climate change, factory farms are the worst things in the world," says Little. For game on the menu, Little draws on local farms that raise elk and bison, species native to the land. Elk and bison require less water than cattle and also feed on native plants while cows require non-native grasses to feed from. 
The furthest sourced ingredient on the current menu, other than imported tamari, is pike from northern Alberta. 
Foraging also allows you to control the amount of a plant you take in order to maintain sustainability, as well as be mindful of the type of plant you forage, which can have positive impacts. 
"If you're foraging the ingredients, a lot of the things which you can actually get might be invasive so that's good for the local flora," says Little. 
At the restaurant, food waste is also a top priority, mitigated through composting and staff meals. "We try not to waste any food," she stresses.
Taste of Place
By sourcing ingredients in the most local way possible, something magic happens that goes beyond the fuzzy feeling of sustainability: the flavour.
"It's integral to give people a taste of place," says Little. "The terroir—things that grow together taste good together."
The way that tomato and basil complement each other thanks to their lineage growing together, historically, crafting a local menu of foods grown and raised in harmony creates a finely tuned song for your tastebuds. "It's the chemical compounds…that's why bison and juniper go well together."
Chef Vs. Wild
A recent appearance on the television series Chef Vs. Wild, a reality show where chefs are dropped into the wilderness without even a lighter and have to forage ingredients for a cook-off, was an affirming experience for the chef—who was more challenged by camping than foraging.
If foraging for yourself sounds tempting, says Little, stop. Do not try to forage ingredients on your own. Foraging ingredients without the proper skill and supervision could be harmful to your health and the health of the natural ecosystem. Chef Little recommends hiring a guide. "Please do not go foraging without an experienced guide," she warns. "You get the food, the experience, and the safety."
Discover what makes Canmore and Kananaskis special, from the people who know it best. Think differently, travel more sustainably, and gain a deeper understanding of the mountains with Peaks Academy. Learn more.