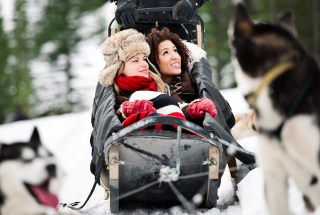 Welcoming the 2SLGBTQIA+ Community
We sat down with Aurora Claire Borin, founder of Bow Valley DEI, to learn more about how front-line hospitality workers and managers can make their place of business more welcoming to everyone.
For the Frontline
Pronoun pins
"A small, nice professional pronoun pin that could even be on your nametag is an easy way to set it and forget it as a show of support," says Borin. Besides, "If you need to address someone, you need their name and pronoun." 
Inclusive language
Avoid words that are gendered, like guys, ladies, sir, or ma'am, and replace them with everybody, folks, or no words at all. "We don't always know what someone's gender is," says Borin. "It's better to wait until they let you know."
Don't assume relationship status 
Checking in two guests of the same sex at the hotel? Don't automatically give them two beds. Assuming relationship status happens more often than you may think, and can be harmful. Asking if the bill is separate or together is another example. Using simple, universal language like "How would you like the bills?" or "What kind of room would you like?" allows you to use the same question for everyone. "It's easier than the alternative," says Borin. 
Merchandise and signage
"Be careful of merch and signage that is suddenly queer exclusive," Borin notes. Exclusionary bathroom signage (for example, referring to body parts) or sexist slogans on merchandise that may be outdated are just a couple of examples of the kind of language that might be less welcoming, and it's worth speaking up as a staff member. It could be as simple as suggesting the business not order more of the merchandise.  
But what if you find yourself in a workplace that doesn't reflect your values? That can be tricky when your livelihood is on the line. "Do what you can, unless expressly forbidden to," says Borin. If a pronoun pin is forbidden, practice saying pronouns in your greeting. Live into your values where you can. It's not your job to change the whole organization, Borin adds. 
For Management
When management decides to create an inclusive, respectful work environment, good things happen. Borin cites a recent MIT Sloan Management Review study showing that toxic workplace culture is the number one reason employees make a move—even above pay. 
When you're ready to look at your workplace through a lens of inclusivity, here's some advice from Borin:
Nail down your values
If you're unsure what your company values are, get them decided and incorporate them meaningfully into everything your organization does. Be sure to display your values on your website, in your staff room—wherever possible to reinforce the culture you're striving for. 
Values first training
Start with your values then let the rest follow. Include your values in training from the very beginning and train everything else under that. 
Lead by example
In management yourself? Put that pronoun pin on. Practice inclusive language and be invested in using it. Be the "keeper of culture" and add your pronouns to your email signature or business card. Small changes make a big impact. 
In the first six months of its operation, Bow Valley DEI reached 347 businesses and over 1,000 people in the Bow Valley. If you want to learn more about DEI in the Bow Valley or are thinking about training for your business but don't know where to start, visit bowvalleydei.ca
Discover what makes Canmore and Kananaskis special, from the people who know it best. Think differently, travel more sustainably, and gain a deeper understanding of the mountains with Peaks Academy. Learn more.