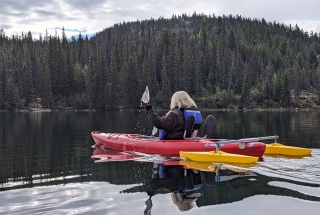 No Limits: Rocky Mountain Adaptive Brings the Mountains to Everyone
No matter what brings you to the Bow Valley, Rocky Mountain Adaptive makes it possible for everyone to experience the natural beauty and adventure, regardless of ability. 
The Outdoor Are For Everyone
Founded by Jamie and Vick McCulloch and Ian Hipkins, in 2009, Rocky Mountain Adaptive (RMA) is a registered charity that challenges what's possible in the mountains. It makes the outdoors accessible to all through adaptive sports programming for people living with neurodivergence, physical, and sensory challenges of all ages and skill levels. 
What started with a ski program has evolved into many sports: hiking, kayaking, and skateboarding are just a few examples, but the sky is almost literally the limit. Since its inception, RMA has grown from delivering 40 adaptive experiences—lessons or sessions—in its first year to over 2,500 in 2022. 
"Anyone who wants to do a sport, we'll help them," says Community Outreach Coordinator, Janine Giles. If the programming or resources don't currently exist, the organization finds a way to make it happen.
No Limits
RMA's motto is "No Limits," a phrase that goes beyond sport. Participants can experience limitations in their own thoughts because of the way their community perceives them, Giles explains. But working with everyone's unique abilities and strengths, RMA creates precious experiences with family and friends that they may not have thought possible. 
The resiliency that participants experience from facing challenges head-on is an equally important skill developed through programming, and a pathway to independence. 
"When people have good experiences we're often told that when they go back home and face a challenge, they're more confident and have a more positive outlook," Giles explains. "A street curb might not feel so far, a challenge may not seem so daunting." 
Building a Community
While some participants are Bow Valley locals who have been using RMA's services for years, others come from other parts of Canada or countries around the world. All it takes is signing up for a spot in a session. 
And while the benefits of physical activity are huge, what has grown out of RMA is about so much more—it's a community.
"I think for a lot of participants because they may have a challenge or impairment they are often doing activities on their own, or on a one-on-one ​​basis with an aide or a caretaker," Janine explains. "We have certain programs, like a snowshoeing program, or a hiking club, where people can just join and it's more of a social club based around an activity, but the main purpose is to bring people together."
The bonds formed go beyond the participants. RMA sees very strong relationships built between instructors and volunteers, and some instructors have worked with the same participants and volunteers for years. 
"When you have the equipment, support and local knowledge, you can have a great adventure with friends and family," says Giles.
"We already know that doing sports and recreation in the mountains is a privilege…[but] the mountains are for everyone, so we do all we can to make our recreational areas accessible to all," says Giles.
Discover what makes Canmore and Kananaskis special, from the people who know it best. Think differently, travel more sustainably, and gain a deeper understanding of the mountains with Peaks Academy. Learn more.