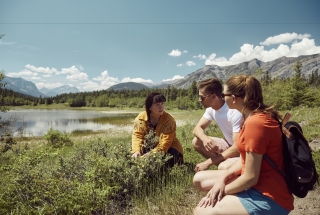 A new wave of Indigenous tourism is transcending the standard visitor experience. Brenda Holder, owner and operator of Mahikan Trails, shares insights to deepen your knowledge of and relationship with the land—and why that is so important. 
Can you talk more about Indigenous tourism and how it differs from standard tourism offerings? 
Brenda Holder (BH): With Indigenous tourism, our culture, traditions, knowledge, and relationship with the land are shared with guests from an Indigenous understanding. Take for example the Grotto Canyon walk. While there are many standard walks offered by companies that tell the archeology of the site, our guided walk tells a much different story that has ties with the Pueblo from the United States that refute the current thoughts on the Kokopeli [a being that belongs to the South West regions of the U.S. and is not generally found in this area] found on the canyon walls. There is much more depth to Indigenous tourism that people may not understand until they experience it with us. And it is important to understand that these stories come from us, from Indigenous people, and not mainstream tourism telling our stories for us. 
What does it mean to hold relationship to the land?
BH: Indigenous people share an oral history and lineage that go back for thousands of years. We have a direct connection to the land and stories from the land. When Elders finish a prayer you will often hear them say "All my relations," although it includes friends, family, fellow humans, it is much more than that. When we refer to our relations, we are including all the animals, swimmers, fliers, etc., but beyond that, the land is our relative, as is the water, the sky, the wind, and all that encompasses where we are and who we are in relationship.
Learn more about the oral history of Canmore and Kananaskis from Îyârhe Nakoda (Stoney Nakoda) Elder, John Snow Jr.
Why is it important for people to be intentional about the relationship they have with the land? 
BH: When we as modern humans forget that we all have a relationship with the land we begin to disrespect it and forget that it is the only thing we have that truly gives us life.
What are some things people can do to feel more connected to the land? 
BH: Some of the more important ways would be to connect through Indigenous experiences to gain a different perspective. Spend time alone in nature and learn the language that the land whispers to you. Find time to spend sitting quietly with a cup of tea, breathe, and just enjoy. Every time you eat a berry that was picked from the wild, be respectful of how the natural world provides. Understand the rhythms of the land and how it affects everything we do. We are not in control, but it is a beautiful balance that the natural world creates and we learn to flow with it. So find that flow.
Brenda Holder is the owner and operator of Mahikan Trails. She is also Vice Chair of the Indigenous Tourism Association of Canada and Chair of Indigenous Tourism Alberta. 
Discover what makes Canmore and Kananaskis special, from the people who know it best. Think differently, travel more sustainably, and gain a deeper understanding of the mountains with Peaks Academy. Learn more.