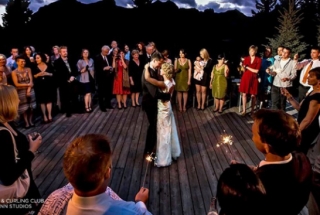 How to have your weekend wedding in Canmore Kananaskis
Callandra Caufield - June 21, 2016
One of the wedding trends I'm seeing this year is weekend weddings, & Canmore Kananaskis is the PERFECT place to have a weekend wedding.
---
Couples are tired of trying to cram in time with all of their guests in just one day, so they are extending their weddings from one day to a whole weekend. So how do you go about hosting such a soiree? Read on – I'll share how you can have your very own mountain weekend wedding!
Friday (DAY 1)
Morning – Come out to Canmore Kananaskis early with a few close friends. Enjoy a round of golf or hit the spa for a few hours!
Afternoon – Guests start to arrive and check into one of the many fabulous hotels, inn's, or condo properties in the area! Skip wedding favours, and instead have welcome bags waiting in your guests rooms. We love loading welcome bags with products from cool local companies. Don't forget to add in a weekend itinerary with event times and locations.
Evening – Once the wedding rehearsal is complete, many of our clients are skipping the traditional rehearsal dinner in favour of a welcome party for all. This is an awesome opportunity for your guests to get to know each other, and for you to chill out and really spend time with your friends and family. You want to think outside of the box here – you don't want the welcome party to over shadow your wedding day! I love the idea of a western BBQ at local ranch, or a tour of a brewery with pub snacks afterwards.
Saturday (DAY 2)
Morning – Relax in your hotel suite, and get ready for your I do's! We have some amazing hair & make-up stylists that will come right to your room, or go to one of our salons to get ready.
Afternoon – It's ceremony time! Choose from a huge range of outdoor ceremony venues, but be sure to have an indoor rain/snow/ sleet/hail back-up plan! And don't let winter scare you away from having an outdoor ceremony – just be sure your guests all understand how to dress in the mountains.
Evening – Now it's time to eat, drink, and be merry! Canmore Kananaskis has SO many amazing wedding venues. You can keep it intimate at one of our super yummy restaurants, choose a modern hotel ballroom, or go with a rustic golf course space ( just to name a few!).
Late Night – at this point you should be dancing the night away. Remember to book a shuttle for your guests at the end of the evening!
Sunday (DAY 3)
Morning – Sleep. (Of course, you just got married!)
Late morning or early afternoon – this is the perfect time for you & your guests to explore Canmore Kananaskis. Organize a group hike, go on a bus tour, or book a group activity like rafting, horseback riding, caving, or dogsledding. For winter weddings I love the idea of a skating or sledding party complete with hot chocolate and cookies.
Late Afternoon – Say farewell to all of your guests (Who just had the most AWESOME weekend) and sneak off to start enjoying your happily ever after!
About the author
Callandra Caufield is the owner and Chief-Happy-Lucky-Wedding-Enthusiast at Postcard Weddings & Events. She has called Canmore home for almost 20 years and loves everything the mountains have to offer. Callandra and her team specialize in planning and designing seriously cool mountain weddings – and making sure you have fun along the way!