Safe Travels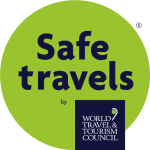 *Please check your email spam folder for your confirmation email.*
Please carefully read through to the WTTC Safe Travels Stamp terms & conditions and ensure continued compliance while you are displaying the stamp in your marketing materials.
Research suggests that travellers are looking to feel safe while travelling, especially when travelling from abroad. This is why displaying and adhereing to all safety protocols is so important for your business and for our destination as a whole.
Here are 2 files to display in your marketing materials: One file with the Tourism Canmore Kananaskis logo only and one file that has an empty space to add your logo as well. All Tourism Canmore Kananaskis members are eligible to receive a free Safe Travels Sticker to display prominently. All other businesses can purchase a Safe Travels Sticker for $5 at the Travel Alberta Information Centre on Bow Valley Trail.
The Safe Travels Stamp program is just one way Tourism Canmore Kananaskis supports tourism businesses in our region.
If you are new to Tourism Canmore Kananaskis, you can learn more about us here: https://www.explorecanmore.ca/industry/
In 2021, tourism businesses in the Canmore and Kananaskis region are offered free basic marketing. All you need to do is sign up here. Accommodation providers are invited to join the organization by submitting a 2% Destination Marketing fee to Tourism Canmore Kananaskis. To learn more, please email Rachel Ludwig.
Thank you for taking the safety of our community and guests seriously,
Rachel Ludwig
CEO
Tourism Canmore Kananaskis