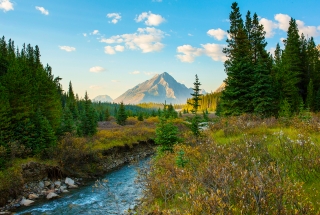 Itinerary: 6 Days to Explore Canmore Kananaskis in the Spring, Summer and Fall
It's time to explore the road less traveled by, and there are sure to be more than a few breath-taking experiences along the way. Canmore and Kananaskis offer the best in hospitality, activities, and views while still feeling secluded and peaceful.
Day 1 (87 km)
Arrive at Calgary Airport, and travel on the Trans-Canada Highway past the foothills and into the Canadian Rocky Mountains. After a one-hour scenic drive, arrive into Canmore and immerse yourself in this authentic mountain community.
Your accommodation options range from mountain-view hotel rooms to condo apartments and lodges.
Spend the afternoon exploring the walking paths, or browse the galleries and boutiques that downtown Canmore has to offer.
Day 2 (56 km)
Explore the wilderness of Kananaskis Country on horseback. Take a full-day horse packing trip at Boundary Ranch and leave at dawn with the saddlebags packed with a delicious trail lunch. The morning is spent roaming the trail along the banks of the Evan-Thomas, criss-crossing the stream several times. The lunch stop finds you relaxing beside a mountain stream for a chance to stretch and explore before setting off on the afternoon ride. The trails you travel will provide some great scenic views as well as the possibility of spotting goats, sheep, elk, and deer.
Day 3 (0 km)
Awake refreshed for a day of adventure. Explore the exciting underground world of Rat's Nest Cave. Knowledgeable guides will tour you throughout natural history, which includes twisting passages and ornate chambers of stalactites & stalagmites that will take your breath away.
After a high-energy day, wind down with an evening float tour on the Bow River.
Day 4 (131 km)
Today, start early to increase your chances to see moose, wolf, bear, deer, or lynx as you are driving along the Kananaskis wildlife trail. Pull over at one of the many look-outs to take in the awe-inspiring views of Mount Assiniboine and Spray Lakes.
Stop by Mount Engadine Lodge for a delectable afternoon tea or Sunday Brunch. The views from the lodge are one of the best-kept secrets in the Canadian Rocky Mountains.
Now it is time to ride up Canada's highest paved road, Highwood Pass. If you feel up to it, hike Ptarmigan Cirque, a local's favourite or just take in the views. Guided hikes are available through Kananaskis Outfitters.
Day 5 (165 km)
Today is time to explore the neighbouring Banff National Park. Arrive into Banff after a 20 minute drive and visit the Banff Gondola for a 360 degree view of the Canadian Rockies.
After, continue onto Lake Louise via the scenic Bow Valley Parkway for a stop at this iconic mountain lake with Victoria Glacier in the background. Have lunch at the famous Fairmont Chateau Lake Louise or in one of the cafes in the hamlet of Lake Louise.
Enjoy your last evening in Canmore with a glass of wine or a cold beer on one of the many outdoor decks or have a memorable dinner at one of Canmore's world-class restaurants.
Day 6 (104 km)
It is time to say goodbye. See the Rocky Mountains disappear in the rear view mirror as you are heading back to Calgary.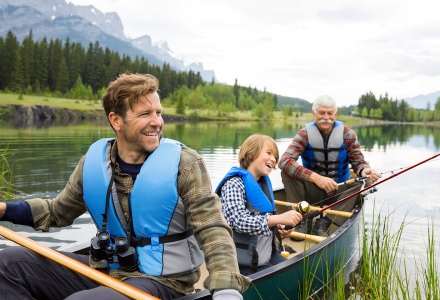 In the Summer
Hiking, white water rafting, and mountain biking. Horseback riding, fly fishing, and golf. Caving, climbing, epic camping adventures, and so much more. The weather's fine. Come on, let's play!
Explore Summer