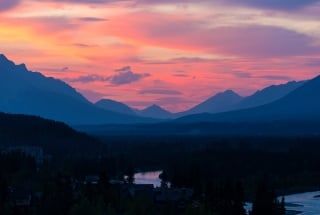 Itinerary: 4 Days to Explore Canmore Kananaskis
It doesn't take long to fall in love with the great outdoors, especially when you find yourself surrounded by bounds of picturesque mountains. Check out this sample itinerary that will help you make the most of your time in the Canadian Rockies.
Day 1 (104 km)
Arrive at Calgary Airport, and travel on the Trans-Canada Highway past the foothills and into the Canadian Rocky Mountains. After a one-hour scenic drive, arrive into Canmore and immerse yourself in this authentic mountain community.
Spend the afternoon strolling down Main Street, explore the galleries and unique shops, and sit down on a sidewalk patio for a freshly brewed coffee. Who knows? Maybe one of the many Olympic Medalists that call Canmore home is sitting right beside you!
Prefer to get straight to the action? Start your adventures straight away with an afternoon float tour on the Bow River or Mountain Biking at the Canmore Nordic Center
Day 2 (0 km)
Awake refreshed for a day of adventure. Take a helicopter ride up to a distant mountain range with Alpine Helicopter. If you're feeling up to it, get dropped off for some heli-hiking or even heli-yoga among the breathtaking scenery.
In the afternoon, explore the exciting underground world of Rat's Nest Cave. Knowledgeable guides will tour you throughout natural history, which includes twisting passages and ornate chambers of stalactites & stalagmites that will take your breath away.
After a high-energy day, wind down with a brewery tour and tasting or explore one of over 80 world-class restaurants for an unforgettable dinner.
Day 3 (131 km)
Wake up, grab a coffee, and hit the road for a scenic drive to Kananaskis Country.
Make your way to the heart of the Kananaskis Valley, our friends—and local legends!—at Boundary Ranch, to experience the real west in the spectacular natural beauty of the Kananaskis Valley. Surrounded by the towering peaks, explore scenic backcountry trails with a trail ride, visit the Guinn Family Wildlife Museum, or just stroll around. You might even catch a staged gun fight, wild west rodeo, or wagon or sleigh ride. Looking to really live the cowboy life? Embark on a full-day quest, like the Surf and Saddle Adventure, combining the best of all worlds: trail ride, BBQ lunch, and white-water rafting on the rapids of the mighty Kananaskis River.
For a relaxing change of pace, head to the crystal-clear mountain lakes of Peter Lougheed Provincial Park, the Upper and Lower Kananaskis Lakes. With a little picnic in the sun in the breeze surrounded by inspiring views, it's a very nice place to sit and enjoy the stillness. Or hike one of the many well-mapped hiking trails, including the spectacular Rawson Lake trail on the southern edge of Upper Kananaskis Lake.
Enjoy your last evening in Canmore with a glass of wine in front of a warm fireplace and cherish your memories that will last a lifetime.
Day 4 (104 km)
It's time to say so long, but hopefully not for too long. See the Rocky Mountains disappear in the rear-view mirror as you are heading back to Calgary.
Want a custom itinerary?
We're happy to develop one to suit your needs. Please contact Rachel at [email protected] or 403.678.1295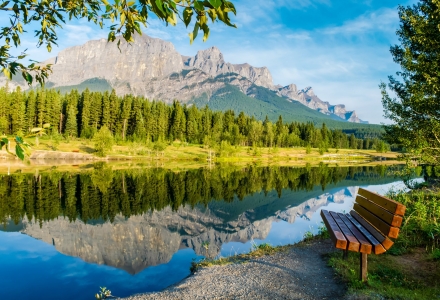 Six-Day Itinerary
It's time to explore the road less travelled. Canmore and Kananaskis offer the best in hospitality, activities, and views while still feeling secluded and peaceful.
Explore Itinerary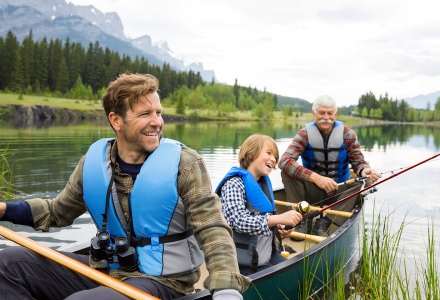 In the Summer
Hiking, white water rafting, and mountain biking. Horseback riding, fly fishing, and golf. Caving, climbing, epic camping adventures, and so much more. The weather's fine. Come on, let's play!
Explore Summer