Safe Travels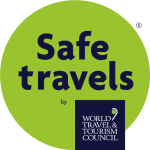 The World Travel & Tourism Council (WTTC) has granted the use of its Safe Travels stamp to Tourism Canmore Kananaskis. This stamp allows travellers to easily recognize destinations and tourism businesses around the world that have adopted globally standardized health and hygiene protocols to ensure visitors have a safe and enjoyable experience.
Tourism Canmore Kananaskis tourism businesses can apply for use of the Safe Travels stamp using the form below. Eligible businesses can use the stamp for their own promotion once they have met the health and hygiene protocols outlined by the WTTC.
More information on the WTTC global protocols and the list of destinations and associations around the world using the stamp can be found here.
Safe Travels Application
The World Travel & Tourism Council (WTTC) requires organizations or businesses displaying the Safe Travels stamp to follow core protocols to ensure WTTC standards for safe operations during the COVID-19 pandemic are being met. As a destination organization authorized by the WTTC to issue the Safe Travels stamp, Tourism Canmore Kananaskis also requires that the core protocols are being followed.
To be issued the Safe Travels stamp, you must confirm that each of the protocols below is in place and being adhered to at your organization or business. Failure to follow these protocols may result in Tourism Canmore Kananaskis reviewing or revoking your use of the Safe Travels stamp.
By marking the box next to a protocol you are confirming that protocol is being followed. Please submit once all boxes below are marked.