Experience music, laughter, and story surrounded by fabulous art! The Live Theatre at The Carter-Ryan Gallery offers professional live performance to the Bow Valley. This summer, you can choose from 4 fantastic shows.
Join us June 27th to September 7th for Canada The Musical, an evening of exhilarating music and often hilarious story telling as three incredible vocalists take you on a musical journey through Canada's awesome music history! Starting as early back as the 1500's with, what many agree to be, the first song of Canada, to the folk songs of settlement, to the age of radio. Shortly thereafter, we travel through an amazing folk movement, the 70's, the unforgettable 80's, some lovely ladies of the 90's, to the 21st century! Canadian or not, you'll leave having celebrated one of the things Canada does best — make great music! Get Tickets!
Rock Stars: Legends of the Mountains is adventure, hilarity, and incredible talent all rolled into one. From July 4th to September 7th, the history of the Bow Valley comes to life right before your eyes in this wildly entertaining, fast-paced theatrical performance. Follow a courageous group of risk-takers as they throw caution to the wind and endure the often hilarious ups and downs of venturing into the unknown. Get Tickets!
Don't miss Bridget Ryan's Cabaret this summer. Through song and story, award-winning actress and singer, Bridget Ryan, will have you rockin' and rollin', singing and dancing, and roaring with laughter throughout this evening of non-stop entertainment. A fast-paced, feel-good show! Get Tickets!
Bradley Bischoff of The Wardens is ready to croon for Canmore, August 27th to September 1st! With performances equal to the mastery of the ranger trade, Bradley Bischoff shares his songs and stories that rise from the land he's protected for the past 30 years. Bradley Bischoff's mountain music blends folk, roots and western styles and is a piece of Canadiana reflecting the pristine wilderness of the Rocky Mountains. Being part of the wildly popular Canmore band The Wardens, he has performed at Folk Alliance in Kansas City, Canmore Folk Festival and all across western Canada. He has shared the stage with Blue Rodeo, Ian Tyson, and Tim Hus. Get Tickets!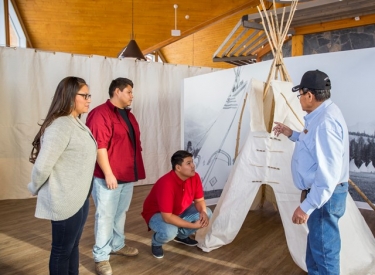 Chiniki Cultural Centre Exhibits