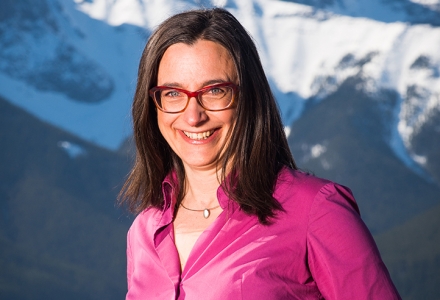 Rachel Ludwig – CEO
Rachel Ludwig is an expert in business development with over 15 years of experience in the travel and tourism industry. From humble beginnings as a housekeeper at Moraine Lake Lodge to her current leadership role as Interim CEO of Tourism Canmore Kananaskis, Rachel has been involved in nearly every aspect of the Bow Valley tourism industry since arriving in the Bow Valley in 2003. She's proud to call Canmore home, and believes the people are what make this place great—though, she'd never say no to first tracks on a powder day.

Rachel believes there's no limit to what we can do when we work together. Her mission is to keep our community thriving by bringing together activity and service providers, retailers, food and beverage businesses and accommodation providers in new and meaningful ways. She was recently accepted into the Certified Destination Management Executive Class by Destination International and is eager to put her hard work to good use.

Rachel is passionate about incorporating sustainable practices into everyday life. She carries a reusable cup, container, and cutlery with her wherever she goes! So it goes without saying that she's excited to find the right balance between people, profit, and planet, and put Canmore and Kananaskis on the map as a leader in sustainable tourism.

In her spare time, you can find Rachel ripping up the slopes or rappelling down the ropes with her husband and two kids. She's also learning to play the piano—a major scale to add to her already impressive list!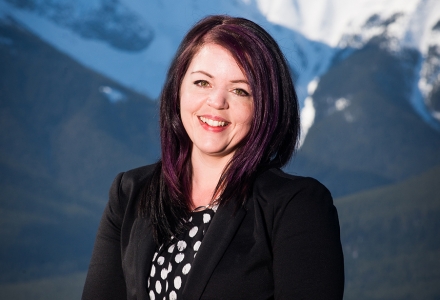 Karen Fennell – Marketing Manager
Karen Fennell is a marketing professional with over a decade of experience in digital marketing, social media marketing, and website development. She's a whiz when it comes to research and analytics, ensuring her cutting-edge campaigns are always data-driven and audience-informed.
Karen moved mountains—figuratively—when she traded the rugged coastlines of Newfoundland for the remarkable peaks of the Rockies and settled in Canmore 10 years ago. She brought with her experience in agency, small business, and corporate marketing.

Karen believes tourism has the ability to change lives through meaningful and impactful experiences. Her mission is to help others create unforgettable moments by sharing stories that celebrate what makes Canmore and Kananaskis unique. She recently completed the Certified Destination Management Executive Class by Destination International—the tourism industry's highest individual educational achievement.

Karen keeps an eye on the horizon and an ear to the ground; she's passionate about issues facing the community and believes that together, we can do right for ourselves, our neighbours, and our future generations. Perhaps it's her small-town upbringing.

When she's not working, Karen enjoys hiking, mountain biking, and camping in Canmore and Kananaskis with her husband Cory, daughter Raven, and their dog Luna. They've logged over 300 hours in their new trailer so far!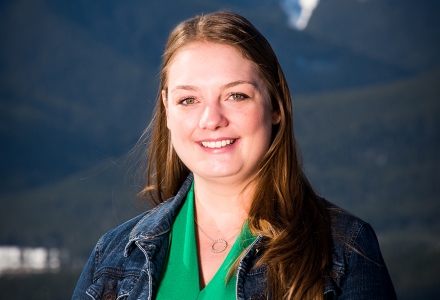 Lindsey Sinclair – Business Development & Communications Manager
Lindsey Sinclair is a tourism professional specializing in business development. Her broad range of experience within the travel & tourism sector, allows her to bring new light and perspectives to the conversation. In 2014, she traded in her Ontario lakes for Alberta mountains and moved cross country to the Bow Valley. She, like many others before her, originally came for one season and has since made the Canadian Rockies her home.

Lindsey is passionate about travel experiences and how they create memorable and life-changing moments. Her mission is to share cultural and historical stories to curate unforgettable experiences in Canmore and Kananaskis. She thrives through the challenge to continue to produce these moments, and her reward is seeing the joy that is created.

Lindsey strongly believes in the good in the world, and that we can be the difference. She believes in kindness and lending a helping hand when you are able. She believes in community and that we can be better together. This is something that is prominent when she looks at the Canmore and Kananaskis community.

Every chance she gets, Lindsey is exploring the outdoors in a social environment. She feels moments are always better when shared with others. You can often find her on the golf course in the summer months, in-between hiking and camping trips. In winter, you may see her skating on wild ice, cross country skiing, or snowboarding at our local resorts.