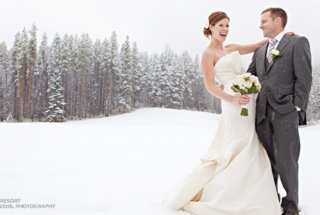 Winter mountain weddings – venues
Shanna C - December 21, 2014
In this multi-week series, our experts give advise on how to have the best Winter Wedding possible.
---
There's something about a Winter Wedding in the Mountains that screams Romance. With the majestic beauty of snow covered tress and mountain caps, plus the amazing light that winter emits, if you're looking for the full mountain experience, winter is the perfect time to book your wedding.
Here in Canmore and Kananaskis, we are all about winter (it's around for 8 months out of the year, so we kind of have to be), and we know winter weddings. If you're planning on, or thinking about having a winter wedding, you'll want to read on for tips and inspiration from our local wedding professionals, on how to get the most out of your Winter Mountain Wedding.
Today we have winter wedding venue and inspiration from Coast Canmore Hotel, Grand Rockies Resort, Delta Lodge at Kananaskis and Alpine Helicopters.
Coast Canmore Hotel & Conference Centre
---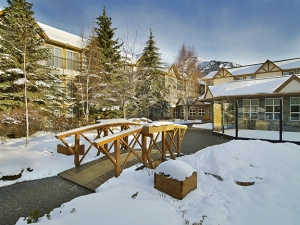 The Coast Canmore Hotel & Conference Centre, Canmore's premier banquet facility, can comfortably accommodate weddings from 10-320 people. Whether you are having a rehearsal dinner and small intimate wedding, or a grand reception and dance we have the space to suit your needs.
Our 6,000 square foot Wildrose Ballroom is the largest of our function space. Made up of four sections with air walls in between, the space can be altered to accommodate up to 320 guests. The room itself has an open, airy feeling with an abundance of natural light. The room is carpeted with a permanent hardwood dance floor that spans the middle of the entire ballroom." The Coast Canmore has a lounge and restaurant on site allowing guests to sit inside and warm up by the fire while having a drink and enjoying company…without having to go outside into the cold! Visit Coast Canmore Hotel Online
Grand Rockies Resort
---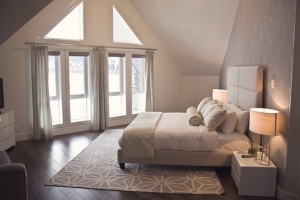 Each penthouse is spread out over 2 floors and has either 2 or 3 spacious bedrooms, a hot tub on the 2nd floor deck, a full kitchen, living room, dining room with table & chairs for 8, and a BBQ on the deck. They can accommodate up to 40 or 50 people for a reception and make an excellent venue for rehearsal dinners, bridal parties getting ready, groomsmen getting ready, photographs, a bridal suite the night of the wedding, gift opening parties and farewell breakfasts. We also can offer full catering from Habitat Restaurant or the couple is welcome to bring in their own food of course.
In addition to the penthouse suites, we have a variety of spacious boutique, one-bedroom and two-bedroom suites to accommodate a variety of guests' needs. Visit Grand Rockies Resort Online
Visit Delta Lodge Kananaskis Online
---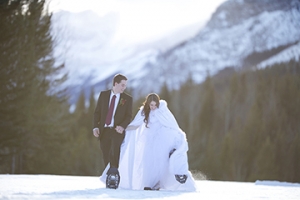 The Delta Lodge at Kananaskis is situated in the magnificent Rocky Mountains, offering the perfect setting for your big day.
We will transform your dream wedding into a reality, with picturesque scenery, outstanding service, and amazing staff! From romantic outdoor ceremonies, to lavish receptions, intimate weddings to themed barbeques, we are here to work with you and help you create the wedding you've always dreamed of. Visit Delta Lodge at Kananaskis Online
Alpine Helicopters
---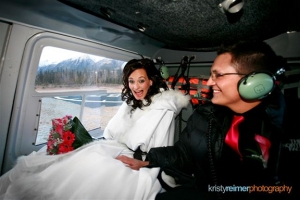 Alpine Helicopters offers two wedding options that are accessible by helicopter in some of the most stunning scenery in the Canadian Rockies. Imagine exchanging your wedding vows along a high mountain ridge or in a beautiful meadow with no one for kilometres around. Our partner, Rick Kunelius is certified by the Province to conduct heli-wedding ceremonies in the following remote locations. Visit Alpine Helicopters Online
---
For a full list of venue options in the Canmore and Kananaskis Area please visit our Venue List here
Read here for Winter Wedding Planning Tips: Click Here
Read here for Hair Styling Tips for Winter Weddings: Click Here
Read here for Photography Tips and Inspiration for Winter Weddings: Click Here